EXCLUSIVE
Palace In Crisis: Prince Harry & Meghan Markle's Stunning Claims Are 'Ripping The Royal Family Apart,' Insider Dishes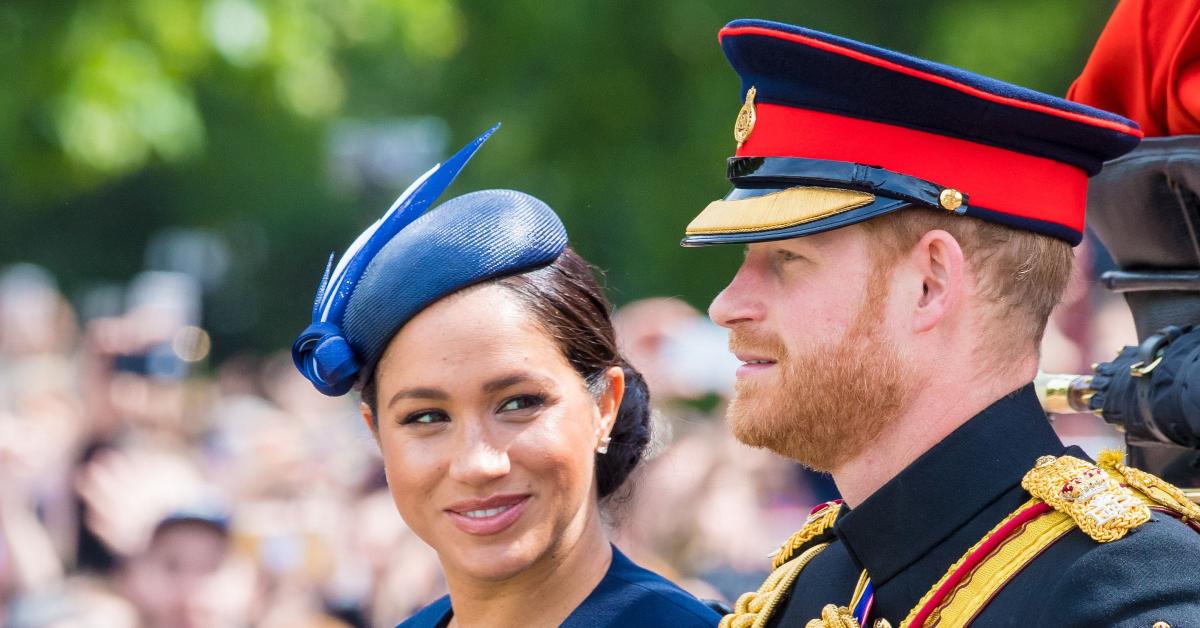 On Sunday, March 7, Prince Harry and wife Meghan Markle stunned the world when they sat down for an explosive interview where they accused the royal family of racism, lying, jealousy and epic betrayals.
In a statement released less than 48 hours later, Queen Elizabeth II said that the issues raised by the pair, "particularly that of race," are "concerning" and assured the public they'd "be addressed by the family privately."
Despite the quick, even-keeled response, a royal insider tells OK! that the overall feeling within The Firm is utter disbelief.
Article continues below advertisement
While Harry, 36, and Meghan, 39, remain holed up at their Montecito, Calif., compound with their 22-month-old son, Archie, the atmosphere back in Britain is incredibly tense.
"The queen, Prince Charles and Prince William are locked in constant meetings to work out how to proceed, at a time they're insanely busy and worried sick about [Prince] Philip's health of course," shares the insider; the 99-year-old left the hospital after a 28-day stay on Tuesday, March 16, following a successful heart procedure.
MEGHAN MARKLE REVEALS SHE 'DIDN'T WANT TO BE ALIVE ANYMORE': INSIDE HER 'VERY CLEAR' SUICIDAL THOUGHTS
Article continues below advertisement
"But as Her Majesty said in her statement, they are committed to addressing the allegations thoroughly and in private. As upset as they are with Harry and Meghan for some of what they said, everyone is in total agreement that there are calls for action and answers."
While the queen, 94, is trying to be balanced about the situation in public, she can't help but feel letdown.
"She's still processing some of these truly shocking, very hurtful things that were said," explains the insider, noting that the monarch is doing her best to remain calm and focus on day-to-day responsibilities.
Currently, the royals are in the process of "streamlining their affairs and cracking down on everything from security and preserving historical and sentimental items," explains the insider.
"Her Majesty is anxious for all precious family artifacts to remain where they belong, and that's within the royal household. Naturally, she would ask anyone, Meghan included, to return a loaned item, jewelry included."
Article continues below advertisement
Other senior royals are finding it more difficult to maintain their composure. On March 11, Prince William, 38, hit back at his brother and sister-in-law's racism claims.
The Duke of Cambridge told a reporter, "We are very much not a racist family," as he and wife Kate Middleton, 39, stepped out for the first time since the bombshell sit-down aired.
Article continues below advertisement
"He's had his own share of horrible headlines to deal with over the years — at one point, William was even accused of betraying Kate," recalls the insider. "You can't blame him for being worried that some of Harry and Meghan's more aggressive defenders will want to try and quiz him about the affair scandal and smear his name. Plus, he doesn't want to bring any more stress onto Kate."
The Duchess of Cambridge, for her part, "feels bad about her sister-in-law's mental health struggles and wishes she'd been able to help her," dishes the source, but notes that the mom of three [George, 7, Charlotte, 5, and Louis, 2] "still denies" making her cry over the infamous bridesmaid dress incident. And even though one of Meghan's friends, actress Janina Gavankar, 40, said there are "many emails and texts" to support the claims the Suits alum made throughout the interview, Kate "is utterly sick of the subject," adds the insider.
Article continues below advertisement
But out of every royal family member mentioned in the shocking tell-all, it seemed that Prince Charles, 72, was painted as the true villain.
Harry said he was "really let down" by his father, claimed he was "trapped" by the institution and accused him of cutting him off financially and refusing to take his calls.
"Charles is livid at the way he's been portrayed," confides the insider. "Apart from airing their personal problems, he cannot believe his own son would say he is trapped in the royal family, which he maintains is unequivocally untrue."
Article continues below advertisement
Despite the fallout, Harry and Meghan have no regrets.
"They feel a sense of relief to have gotten everything off of their chests and are grateful that the palace is probing into everything they spoke about," shares the insider. "Yes, feelings have been hurt, but they're optimistic that things will be resolved." And although that could take months, "or even years," adds the insider, "until then, they have no problem sticking up for themselves."