ROYALS
Prince Harry & Meghan Markle's Bombshell Tell-All With Oprah Drew In A Whopping 17.1 Million Total Viewers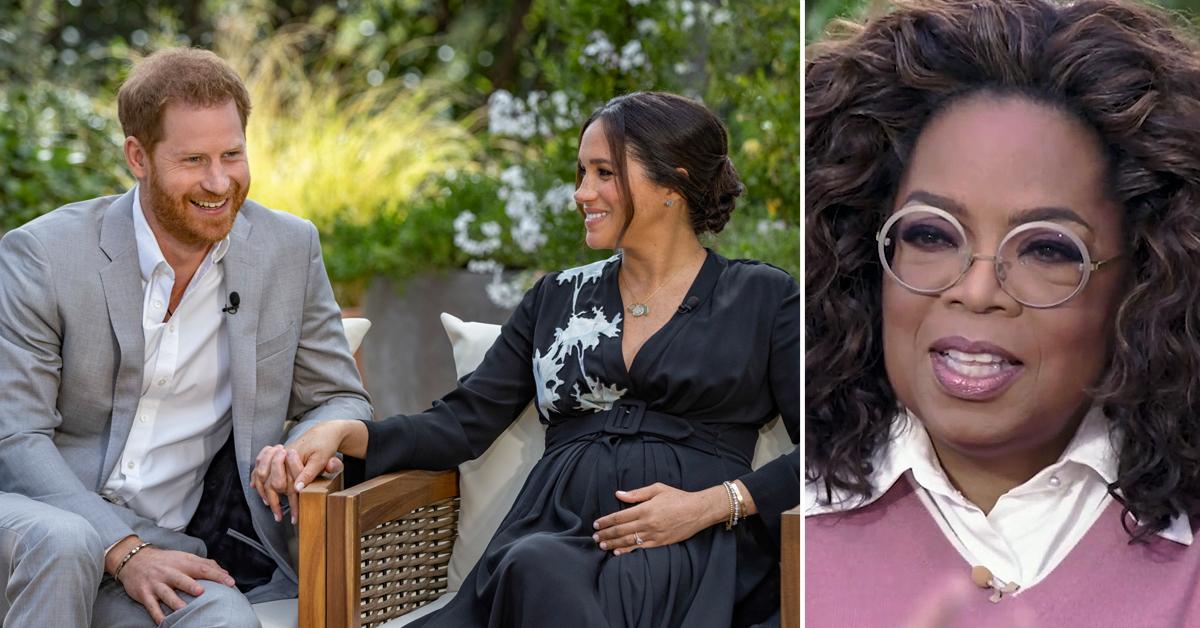 Oprah Winfrey's bombshell interview with Prince Harry and Meghan Markle on Sunday, March 7, was a can't-miss spectacle that didn't disappoint. The CBS 90-minute primetime tell-all drew in 17.1 million total viewers, according to preliminary Nielsen numbers, as people all around the world were eager to hear the couple share their side of life as royals and their decision to leave it all behind.
As OK! previously reported, CBS was said to pay more than $7 million for the rights to air the couple's interview, and they certainly got bang for their buck.
Article continues below advertisement
Harry and Meghan's controversial special, which premiered one month after Buckingham Palace confirmed that they won't be returning as working royals after their 12-month "Megxit" review period, marked the first time the duo has been able to speak out and share their side of the story.
Article continues below advertisement
However, Meghan also opened up about some of the darker times in her life when she had "very clear and very scary" suicidal thoughts during her royal days. Meghan shared how the constant abuse from U.K. tabloids and claimed that lack of support and protection from the royals ultimately pushed the couple to step down as senior royal members for good.
"We never left the family, and we only wanted to have the same type of role that exists," Meghan said, explaining that they simply wanted to step back from their "senior" roles while remaining royal members.
According to the Meghan, she, 39, and Harry, 36, "were in a lot of pain," but the Palace did not provide them "with the help that they needed."
Article continues below advertisement
During the shocking tell-all, Harry and Meghan also claimed that Archie was not going to receive security and that there were conversations of race surrounding her pregnancy. Meghan alleged that the firm "didn't want [Archie] to be a prince," and therefore, "he wasn't going to receive security."
While noting that there was "no explanation" as to why Archie wouldn't receive a title, Meghan added: "It was a decision they felt was appropriate."
Article continues below advertisement
Oprah then questioned if race played a part, to which Meghan responded: "In those months when I was pregnant ... there were also concerns or conversations about how dark his skin might be when he's born," Meghan claimed. "There's several conversations ... with Harry. And what that would mean or look like."
While she nor her hubby would share who took part in the conversations surrounding Archie's race, Oprah revealed one day after the interview that Queen Elizabeth II and Prince Philip had no part in the race talks.
Oprah said that Harry "wanted to make sure that I knew, and if I had an opportunity to share it, that it was not his grandmother, nor his grandfather that were part of those conversations," while speaking with CBS This Morning co-host Gayle King. "He did not tell me who were a part of those conversations, as you can see I tried to get that answer, on camera and off."