PHOTOS
Kylie, Kendall & More! Find Out Why Miley Cyrus Unfollowed Her A-List Pals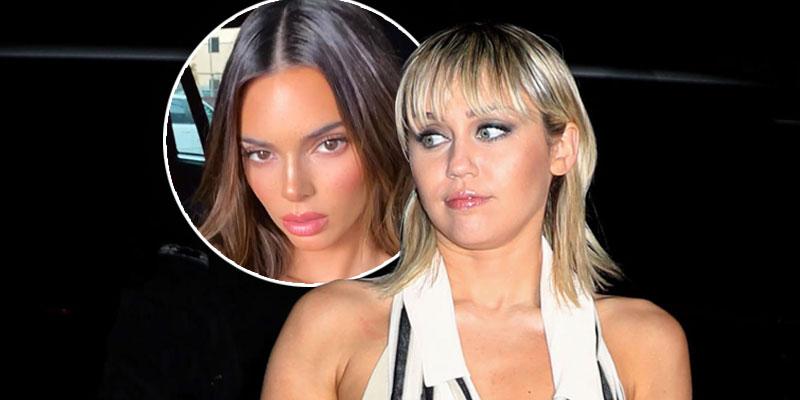 It appears Miley Cyrus isn't a fan of her A-list pals who ignored COVID-19 safety precautions to attend Kendall Jenner's Halloween party.
FROM BALI TO CALI — WE CAN HARDLY *KEEP UP* WITH KIM KARDASHIAN'S EPIC B-DAY BASHES
Jenner, 25, is taking the heat after her lavish Halloween-themed birthday bash. The former Victoria's Secret model held a costume party at Harriet's Rooftop at 1 Hotel in West Hollywood on Saturday, October 31. While ET reported that all attendees took a COVID-19 test that came back negative, fans continued to question why no one was wearing a mask at the luxurious (and crowded!) party.
Article continues below advertisement
Article continues below advertisement
Fans noted the "Wrecking Ball" singer, 27, appeared unimpressed with the A-listers' public unsafe outing as she unfollowed partygoers Kendall and Kylie, The Weeknd and Saweetie.
While it is unclear if the former Disney star was just cleaning up her Instagram account or taking a stance against the celebs who seemingly ignored the deadly virus, fans applauded Cyrus for staying home and reading a book.
"Every single celebrity at a halloween party after they praise about social distancing and staying home while miley cyrus was reading a book alone in bed on halloween night," one user wrote via Twitter.
Article continues below advertisement
One Twitter user posted the sign from the party that told guests not to post on social media and responded: "no but kendall jenner threw a big ass party with all those celebrities without masks in the middle of a pandemic with a 'no social media' rule so people wouldn't find out about it…."
Another user wrote, "Not the best look for Kendall Jenner throwing a GIGANTIC party and telling people not to post anything about it... (spoiler alert: people posted about it)."
Kendall's celebration comes after older sister Kim, 40, received a ton of backlash for her tone-deaf social media posts from her $1M getaway for her birthday. The reality star surprised the Kardashian-Jenner krew and close pals with a trip to a private island in Tahiti to celebrate turning the milestone age.
"After 2 weeks of multiple health screens and asking everyone to quarantine, I surprised my closest inner circle with a trip to a private island where we could pretend things were normal just for a brief moment in time," she tweeted on Tuesday, October 27.
Despite receiving criticism for her insensitive posts, she continued to share photoshoot pics of her pals having fun in the sun.