PHOTOS
5 Facts About Tayshia Adams' Ex Josh Bourelle (Who's Now Spilling All The Tea!)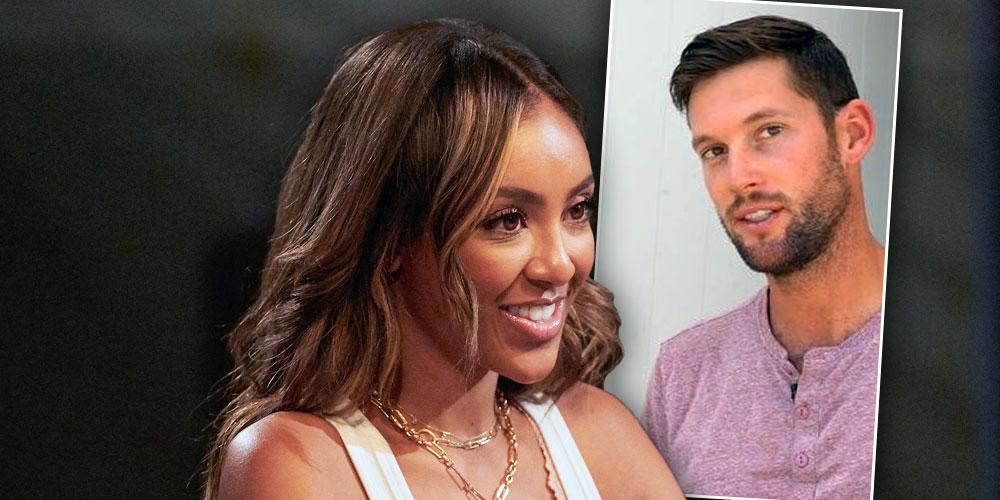 Tayshia Adams hasn't shied away from the fact that she was married before she became the leading lady on this season of The Bachelorette.
While appearing on Colton Underwood's season of The Bachelor in 2018, she confessed that she had just split from her ex Josh Bourelle. "This past year and a half has been kind of hard for me, and it's actually because I was married and I got divorced," Adams said.
Article continues below advertisement
"I actually married my first boyfriend, and I was with him for about six years or so," she added. "I guess I could, kind of, sense we weren't doing very well. And I think that's why I fought so hard just to try to do as much as I possibly could to save the marriage."
Bourelle filed for divorce from the 30-year-old in October 2017. In the documents, he claimed the former flames had been "living separate lives" since August 2017.
6 *CRINGEWORTHY* MOMENTS FROM CLARE CRAWLEY'S SEASON OF 'THE BACHELORETTE'
During this season of the ABC series while on a date with Brendan Morais, the brunette babe got candid about what went down in their relationship. "I married a guy that I met in college. I also had lost myself in my marriage, like my identity was him," she admitted. "But unfortunately, it was infidelity and other issues — not on my part — and then we got divorced and I too felt like I failed.
"I too felt embarrassed and ashamed and that fear of, 'Our parents are going to be upset, our friends are going to be upset.' So, I know exactly what you mean," she said.
Bourelle has remained quiet about his past, but he recently spilled all the details about what really went down between him and Adams. "Her going out and saying that I cheated on her and that was the reason for our divorce on national TV, I felt like, kind of crossed the line a little bit," he said on the "Reality Steve Podcast" on Thursday, December 10.
He's A Roofing Contractor
Bourelle is the co-chief executive officer at D&J Roofing, Inc., according to his LinkedIn.
Article continues below advertisement
He Is Taken
Bourelle has found love again but is private about his new romance. "I have an amazing girlfriend that has shown me what it's like to be in a healthy relationship and I feel blessed to be put in the situation where I can reflect on my past," he shared. "I know it brought a lot of wisdom to my life just going through that experience with Tayshia. I honestly do wish her the best, I just don't want to be drug into the whole mess. I don't want anything to do with it."
Article continues below advertisement
He Is Moving On
Bourelle is ready to start fresh and be removed from Adams' life for good.
"My goal from doing this is, I'm not trying to put Tayshia down. I do wish the best for her," he said. "The whole goal with a divorce, in my opinion, especially when you don't have kids, is to close the chapter and open up a new one. I'm done with that stage of my life. I don't need to go back to it."
Article continues below advertisement
He Told Tayshia He Cheated On Her
"I came clean about it — not immediately, but a few hours into her coming home, I ended up coming clean about it and I felt terrible," he said. "It was an immense amount of guilt on my shoulders for doing what I did, but it also made me realize that I was wasting my time. And then she eventually — because I did what I did — she wanted to put forth the effort, and she did put forth the effort. We went to therapy, but after a few months of therapy, I had kind of come to the conclusion that my heart was not in it anymore and I didn't want to be married to her."
Article continues below advertisement
Tayshia Reached Out To Josh Recently
After fans thought Bourelle might show up on the series, Adams reached out to her ex. "It looked like it was written by a lawyer, not by her but I don't know. I don't know why my name would end up on subtitles," he shared. "One thing that stood out to me that was kind of funny … I'll read it to you," he said.
He added, "Basically, it was you know, 'Just called to talk about a stupid incident that showed up on a media promo. I just found out about it and I am livid because there is no reason for you to ever be brought up in any of this. I've never once said your name and I've always made it known that none of this has anything to do with you and have always protected any personal information.' I mean yeah, she's never said my name, she's just said my ex and it's very easy to figure out who I am. Just type in Google Tayshia Adams' ex-husband and I'll pop right up!"