BABIES
'Oops!' Chrissy Teigen Accidentally Reveals Sex Of Baby No. 3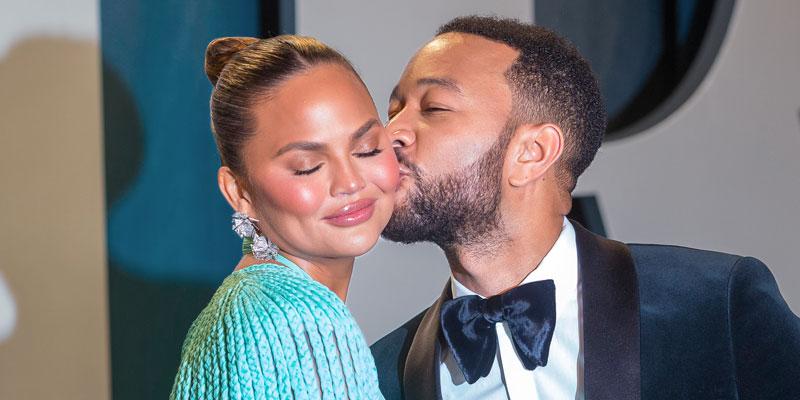 Article continues below advertisement
Realizing she had let the sex of her baby slip, the model covered her mouth and laughed before she continued to record the video.
"hahahahaha might as well tell you," she captioned the post.
The new baby boy will be the third child for the Chrissy's Court star and the EGOT winner, 41. The couple is already parents to daughter Luna Simone, 4, and son Miles Theodore, 2.
In the revealing video, the cookbook author also shared with her followers the health issues she's faced in her previous pregnancies.
"It's always been kind of the bad part of my pregnancies with Luna," she said. "With Miles, it just stopped feeding him. It stopped taking care of him. I was stealing all his food because I was getting huge but he wasn't getting big at all, so he had to come out early and Luna had to come out early. I was induced both times."
Although she said her her placenta is "super weak," she assured her fans that her baby on the way is "growing beautifully."
Article continues below advertisement
"Everything's good," she said. "I'm feeling really good, but my placenta's really, really weak, and it's causing me to really bleed a lot. So basically, it's just pretty high risk."
"This poor thing has been through so much already," she continued. "We just have to get my placenta healthy again, and that means not moving so I'm on complete and total 'don't get out except to pee-pee' bed rest."
PREGNANT IN A PANDEMIC! CHECK OUT THE CUTEST QUARANTINE BABY BUMPS
In addition to her placenta complications, the Lip Sync Battle host previously admitted she's also dealing with migraines this time around.
"I get really really bad pregnancy headaches," she wrote on Twitter. "Was thrilled to be cleared to do neck muscle Botox along with a crazy combo of beta blocker shots and radio wave frequency something something doctor terms. Anyhow, man, it's just so bad but I see the light finally."
Last month, Teigen announced her pregnancy by way of her husbands's new music video for the song 'Wild.' In the last 10 seconds of the video, the singer has his arms wrapped around his wife with both of their hands on her growing stomach.