EXCLUSIVE
Ellen DeGeneres Is Already 'Getting Annoyed' At How 'Nice' She Has To Be On Set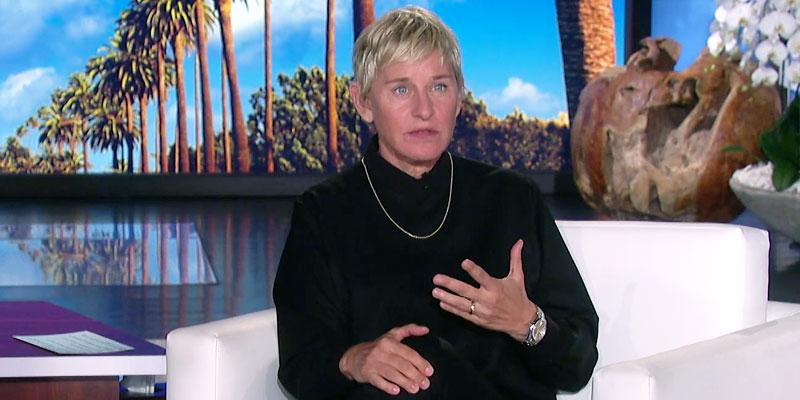 Ellen DeGeneres kicked off season 18 of her talk show, The Ellen DeGeneres Show, by addressing the elephant in the room after former staffers claimed the set was a "toxic" place to work. Although she has told the public and her staff that this is a new beginning for her and her show, the 62-year-old is already getting frustrated at how friendly she has to be in the studio, OK! has learned.
"Ellen is in a lose-lose situation. She is finding herself having to grin like the Cheshire Cat, or else people will say the old, mean Ellen has returned. You can tell being this nice is already getting annoying. Ellen technically is the boss of over 250 staff — now each and every one of them think they can walk into her office with any complaint," a source exclusively tells OK!.
Article continues below advertisement
TALK SHOW TRAINWRECKS! 25 CELEBS WHO TANKED AS HOSTS
As a result, the comedian won't be able to get "any work" done in her office, the insider adds. "Her entire day is going to be consumed by the silly, small drama of every intern, assistant and junior member of the team."
Ultimately, the Finding Dory star "wants to create a great work environment but that doesn't mean feelings won't get hurt when ideas and pitches are possibly rejected for better ones." DeGeneres is "terrified that the next time she says 'no,' staff will go running to the press," the source dishes.
Article continues below advertisement
"As you may have heard, this summer there were allegations of a toxic work environment at our show, and then there was an investigation," she began. "I learned that things happened here that never should have happened. I take that very seriously, and I want to say I am so sorry to the people who are affected. I know that I am in a position of privilege and power, and I realize with that comes responsibility, and I take responsibility for what happens at my show.
Article continues below advertisement
In July, former staffers from the series came forward and claimed there were incidents of racism and sexual misconduct going on behind the scenes. As a result, Ed Galvin, Kevin Leman and Jonathan Norman — who were all top producers — were fired after WarnerMedia launched an internal investigation.
Following the accusations, DeGeneres apologized to her staff via a video call. "I'm a multi-layered person, and I try to be the best person I can be and I try to learn from my mistakes," the host told staffers at the time, according to PEOPLE. "I'm hearing that some people felt that I wasn't kind or too short with them or too impatient. I apologize to anybody if I've hurt your feelings in any way."
AXED: ELLEN REMOVED FROM THE AIR, REPLACED WITH DESPERATE HOUSEWIVES RERUNS
After DeGeneres' public apology, Human Behavior Labs president Susan Constantine, who specializes in reading people, body language and human behavior, exclusively told OK! that DeGeneres was being "authentic," adding that she took "full responsibility for what has been going on."
Tonya Reiman, author of three books on body language and human behavior, also echoed similar sentiments, saying, "when discussing her moods and issues, she used the palm up gesture frequently, which is typically used by people who are honest or who are trying to appear honest."