EXCLUSIVE
Telling The Truth: Ellen DeGeneres Took 'Ownership' Of Her Mistakes Post-Scandal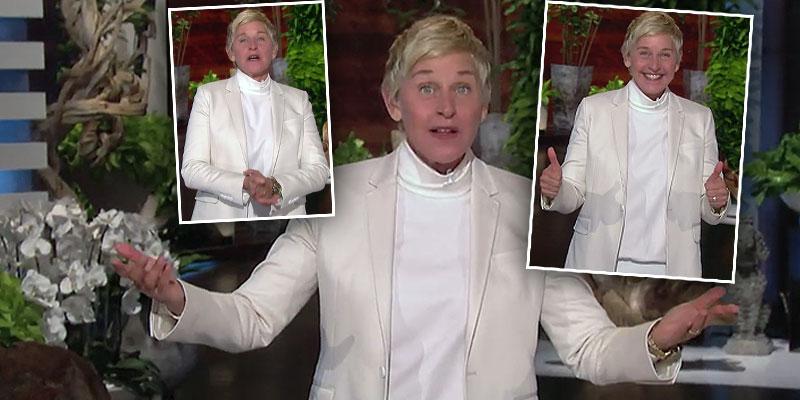 Ellen DeGeneres was back on the air on The Ellen DeGeneres Show on Monday, September 21 — two months after former staffers claimed the talk show set was a "toxic" place to work — and she didn't hold back addressing the scandal that has wreaked havoc on her life. So, was the comedian, 62, genuine while speaking to the audience?
According to Human Behavior Labs president Susan Constantine, who specializes in reading people, body language and human behavior, DeGeneres took "full responsibility for what has been going on," she exclusively tells OK!. "She's got her palm on her chest. That is saying 'I.' That is the strongest identifier, and she's actually putting herself into that, meaning I am taking full ownership, which is consistent with truthfulness."
Article continues below advertisement
TALK SHOW TRAINWRECKS! 25 CELEBS WHO TANKED AS HOSTS
"When I was watching her gesture with her words, I found that her gestures and her words were in sync," Constantine adds. "So, when I analyzed the entire take, her gesture and movement synchronized with her expression and her emotions. It was flawless, in my opinion. It was uncomfortable for her to do it. I am not saying she didn't appear uncomfortable. Had she been extremely comfortable, I would have thought that was odd."
Constantine notes that DeGeneres spoke "from her heart and it was believable and authentic," adding that it's been "a difficult time for her."
Despite looking calm and collected on television, Constantine reveals that DeGeneres was "nervous and anxious" since she was in a high-stakes situation. "She had a lot to lose if she didn't convey it properly, right? She had a lot to gain to convince everyone that this was heartfelt," the book author states.
Article continues below advertisement
FORBES HIGHEST-PAID CELEBS OF 2020! ELLEN & KANYE MAKING BANK AMID CONTROVERSIAL BEHAVIOR
"She went with what she believed to be her truth — that's the reason why I felt she did a great job," she continues. "Considering the environment and the moment, you would expect her to be nervous and anxious. What would be odd is if she was overly calm, joking a lot or minimizing the situation, but she didn't do that. She went right for it, right to it, and I thought that was very smart on her part."
Although DeGeneres owned up to her actions, Constantine notes the Hollywood star "rehearsed" what she was going to say several times, but she didn't sound "robotic" when speaking to the virtual audience.
Tonya Reiman, author of three books on body language and human behavior, also tells OK! that DeGeneres used "some downward hand gestures to take responsibility and show that she was serious about the issues" she was speaking about. "When discussing her moods and issues, she used the palm up gesture frequently, which is typically used by people who are honest or who are trying to appear honest," she adds. "She seemed authentic."
MORE ON:
The Ellen DeGeneres Show
Article continues below advertisement
During the beginning of the Finding Dory star's show, she addressed the elephant in the room right away. "As you may have heard, this summer there were allegations of a toxic work environment at our show, and then there was an investigation," she stated. "I learned that things happened here that never should have happened. I take that very seriously, and I want to say I am so sorry to the people who are affected. I know that I am in a position of privilege and power, and I realize with that comes responsibility, and I take responsibility for what happens at my show."
Article continues below advertisement
"We've had a lot of conservations over the last few weeks about the show, our workplace and what we want for the future. We have made the necessary changes and today, we're starting a new chapter," she continued.
AXED: ELLEN REMOVED FROM THE AIR, REPLACED WITH DESPERATE HOUSEWIVES RERUNS
DeGeneres admitted she's "a work in progress" and is "trying to grow as a person." Going forward, DeGeneres hopes that her staff is "happy and proud" to work for her. "I still want to be the one hour a day that people can go to escape and laugh. I want to continue to help all of the people that we help everyday, and I am committed to making this the best season we've ever had," she said. "So, welcome to season 18 of The Ellen Show, I am so glad that you're here."
In July, former staffers from the Emmy-winning series came forward and claimed there were incidents of racism and sexual misconduct going on behind the scenes. As a result, Ed Galvin, Kevin Leman and Jonathan Norman — who were all top producers — were axed after WarnerMedia launched an internal investigation.
Following the accusations, DeGeneres apologized to her staff via a video call, where she got emotional about everything that had been happening. "I'm a multi-layered person, and I try to be the best person I can be and I try to learn from my mistakes," she told staffers, according to a PEOPLE source. "I'm hearing that some people felt that I wasn't kind or too short with them or too impatient. I apologize to anybody if I've hurt your feelings in any way."