NEWS
'I Started Realizing How Queer I Really Am': Demi Lovato Reveals Her Broken Engagement With Max Ehrich Was A 'Huge Sign' About Her Sexuality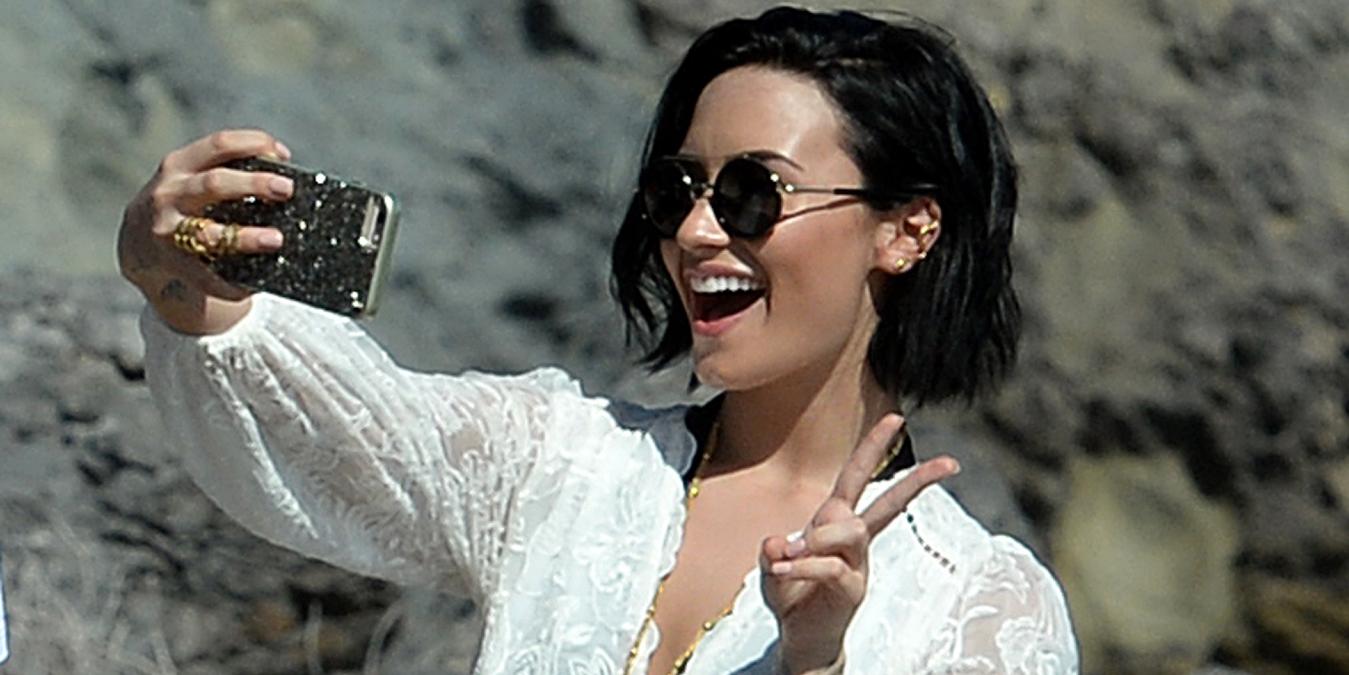 Back in September, Demi Lovato decided to call it quits with fiancé Max Ehrich, just two months after the actor proposed to the songstress.
Shocked fans couldn't help but speculate what may have gone wrong in the whirlwind romance, but it sounds like the 28-year-old has a good idea. In a raw new interview with Glamour, the "Sorry, Not Sorry" singer revealed the breakup helped her better understand her sexuality.
Article continues below advertisement
"When I started getting older, I started realizing how queer I really am," Lovato said. "This past year I was engaged to a man, and when it didn't work, I was like, this is a huge sign. I thought I was going to spend my life with someone. Now that I wasn't going to, I felt this sense of relief that I could live my truth."
DEMI LOVATO DEBUTS MEANINGFUL TATTOO THAT PAYS TRIBUTE TO HER PAST STRUGGLES
The Disney alum said that over time, she started really listening to herself and thinking about what truly felt right.
"I hooked up with a girl and was like, 'I like this a lot more.' It felt better. It felt right," she said. "Some of the guys I was hanging out with — when it would come time to be sexual or intimate, I would have this kind of visceral reaction. Like, I just don't want to put my mouth there.
"It wasn't even based on the person it was with. I just found myself really appreciating the friendships of those people more than the romance, and I didn't want the romance from anybody of the opposite sex," she continued.
SOCIAL DISTANCING FOR GOOD: CELEB COUPLES WHO'VE CALLED IT QUITS DURING QUARANTINE
Article continues below advertisement
While the "Confident" singer feels, well confident, with her sexuality, she isn't ready to put a label on herself publicly just yet.
"I know who I am and what I am, but I'm just waiting until a specific timeline to come out to the world as what I am," Lovato said in the interview. "I'm following my healers' timeline, and I'm using this time to really study and educate myself on my journey and what I'm preparing to do."
Lovato, who has previously described herself as sexually fluid, said her parents were extremely supportive when she decided to come out to them.
"I didn't officially tell my parents that I saw myself ending up possibly with a woman, too, until 2017," she told Andy Cohen on his SiriusXM show last year. "It was actually emotional, but really beautiful. After everything was done, I was like shaking and crying. I just felt overwhelmed. I have such incredible parents. They were so supportive."
Article continues below advertisement
As OK! previously reported, Ehrich and Lovato first linked up in March and decided to quarantine together. The actor popped the question four months later on a Malibu, Calif., beach with an 8-carat emerald cut diamond ring. While the duo appeared to be on cloud nine, the Grammy nominee and her friends and family quickly grew wary of her ex-fiancé's intentions.
"She worried that he was using her for the fame and heard he was dropping her name around Hollywood while trying to get acting jobs," a source exclusively told OK! at the time. Lovato called off their engagement in September; Ehrich claimed he found out about the breakup via a tabloid.
POP PERFECTION: HOW TAYLOR SWIFT, MILEY CYRUS & LADY GAGA STAY IN TIP-TOP SHAPE
"I denied my intuition of all the red flags that had popped up. I had no one else to blame but myself," she said in the interview of her relationship with The Young And The Restless star. "So I was like, 'How am I ever going to trust again?' But really, I was like, 'B*tch, you should have trusted yourself. If you had trusted yourself, you wouldn't have ended up in this position.'"
Lovato will certainly reveal more in her upcoming documentary series Demi Lovato: Dancing With The Devil, debuting on YouTube on March 23. It is set to cover a range of topics including Lovato's near-fatal overdose in 2018.