EXCLUSIVE
Demi Lovato Shocked By 'Huge Backlash' Over Attacking 'Diet Culture,' Calling Out Popular California Fro-Yo Spot: Source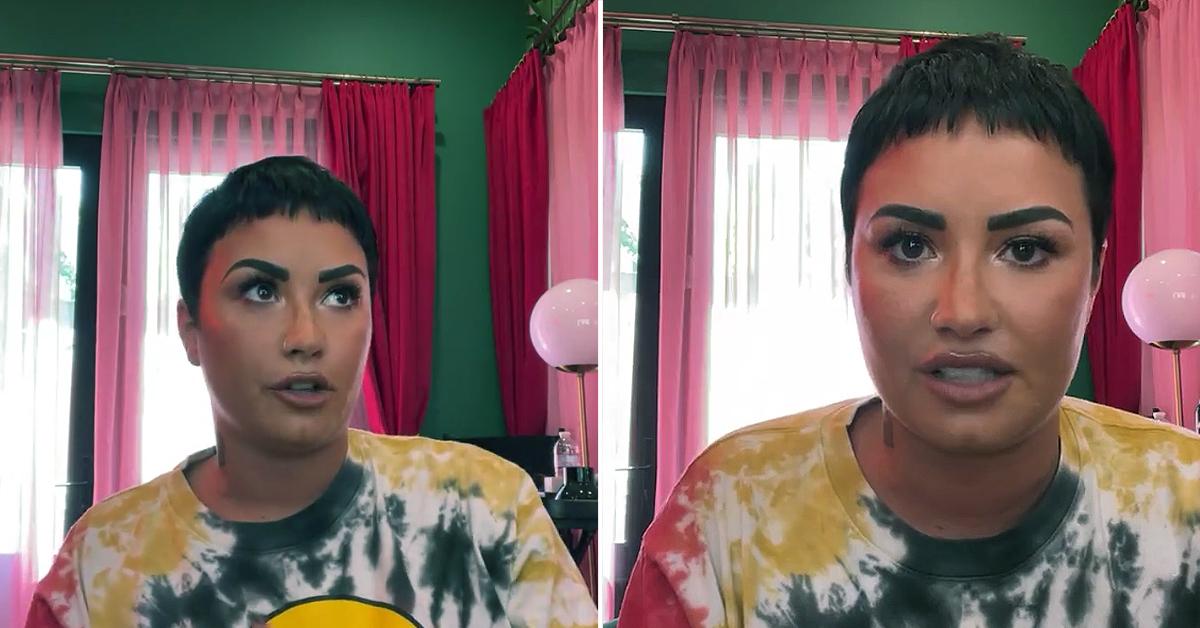 Demi Lovato has apologized for accusing The Bigg Chill, a California frozen yogurt shop, of promoting diet culture for its excessive amount of sugar-free treats — but she's left stunned by the overwhelming backlash to her fleeting remarks, OK! has learned.
Article continues below advertisement
"Demi forgets the power of her own celebrity," a source tells OK!, adding: "If she thinks something, she says it and then goes on with her day."
However, in a world of social media, where Lovato has millions of followers, it isn't that easy to walk away from problems after causing a stir.
Article continues below advertisement
"Demi didn't think twice about the comment until she was on the receiving end of the huge backlash. The last thing she wanted was to punish a small business, which is why she apologized," an insider adds. "She has reached out to the store and wants to make this right. Moving forward, Demi will be more cautious and think before she says anything."
Article continues below advertisement
The feud between Lovato and the fro-yo shop began when she expressed her grievances with the chain via her Instagram Story on Sunday, April 18.
"Finding it extremely hard to order from @thebiggchillofficial when you have to walk past tons of sugar free/other diet foods before you get to the counter," the "Dancing With The Devil" crooner wrote on her Instagram account, where she has 102 million followers. Lovato added that the "sugar-free cookies" and other diet foods were "triggering." She ended her message with the hashtag #dietculturevultures.
Article continues below advertisement
OK! previously reported that the brand responded to Lovato via DM and that the singer re-posted the messages to her story so her followers could see. The brand insisted they are not "diet vultures" but carry certain flavors for "diabetics, [people with] celiac disease" and vegans, among others.
Article continues below advertisement
Lovato wasn't impressed by the brand's response, as she encouraged them to make it clear that the store carries those items to cater to people for those specific reasons.
"When it's not super clear, the messaging gets confusing and being in L.A. it's really hard to distinguish diet culture vs. health needs," she fired back. "I think more clearer messaging would be more beneficial for everyone. You aren't wrong for catering to many different needs but it's about not excluding one demographic to cater to others."
Article continues below advertisement
After throwing shade at the yogurt shop over the weekend, Lovato went on Instagram Live on Monday, April 19, to apologize. The songstress has struggled with eating disorders, and she explained that her visit to the shop was personally triggering.
Article continues below advertisement
"I'm human and I talk about my struggles. I'm passionate, so I'm sorry that I got the messaging wrong," she said in the clip. "I'm genuinely sorry that people took it the wrong way."
Article continues below advertisement
Source: Piers Morgan/ Twitter
To really make his thoughts on the 28-year-old known, Morgan wrote a Daily Mail article to further bash Lovato, noting: "Not a day goes by without some celebrity somewhere claiming to feel 'triggered' by something, mainly in an attempt to weaponise their victimhood, raise their profile and make money."