NEWS
Exodus: Ex-Chief Of Staff Quits — As Five Others Walk Out Of The White House In Protest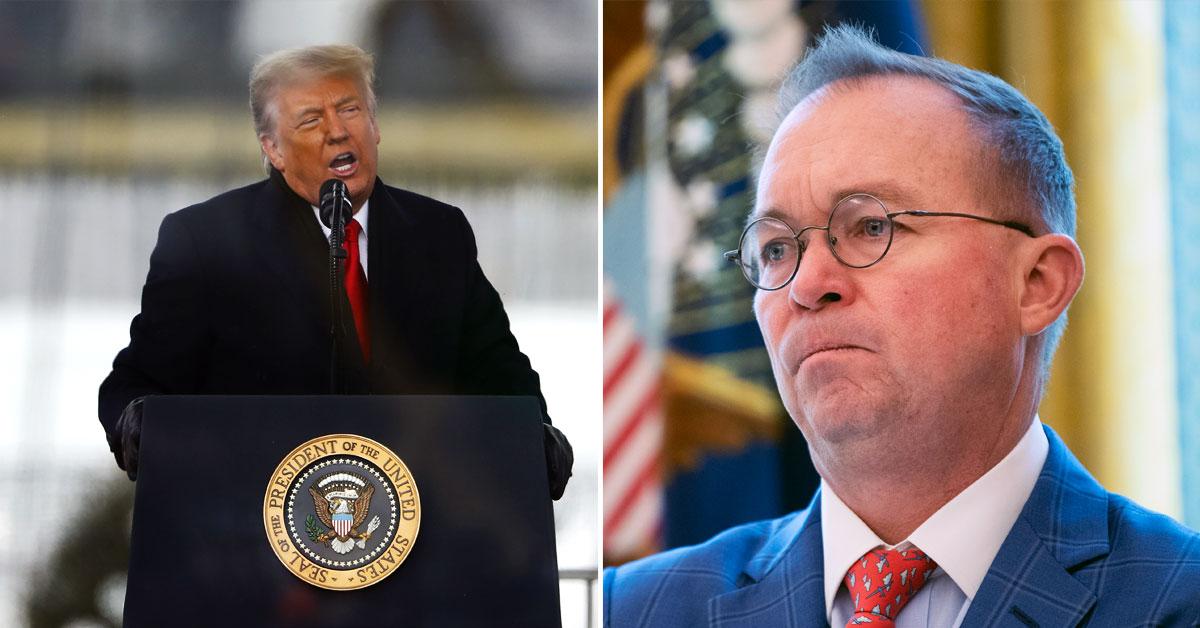 After chaos ensued at the Capitol in Washington, D.C., on Wednesday, January 6, Donald Trump's former chief of staff, Mick Mulvaney, quit, in addition to four other people who worked alongside the President.
"I called [Secretary of State] Mike Pompeo last night to let him know I was resigning from that. I can't do it. I can't stay," he told CNBC on Thursday, January 7.
Article continues below advertisement
"Those who choose to stay, and I have talked with some of them, are choosing to stay because they're worried the president might put someone worse in," Mulvaney added. "I wouldn't be surprised to see more of my friends resign over the course of the next 24 to 48 hours."
Mulvaney wasn't the only person to step down from his role, either. Stephanie Grisham, the current chief of staff for First Lady Melania Trump, handed in her resignation letter on January 6, which is effective immediately.
"It has been an honor to serve the country in the White House. I am very proud to have been a part of Mrs. Trump's mission to help children everywhere, and proud of the many accomplishments of this Administration," Grisham said in a statement.
D.C. RIOTS EXPLODE AS PROTESTORS STORM THE CAPITOL BUILDING: WHO'S SAFE & WHO'S NOT
Anna Cristina "Rickie" Neceta also resigned on Wednesday, in addition to Matthew Pottinger, deputy national security adviser, and White House press aide Sarah Matthews.
"I was honored to serve in the Trump administration and proud of the policies we enacted. As someone who worked in the halls of Congress I was deeply disturbed by what I saw today," Matthews said in a statement. "I'll be stepping down from my role, effective immediately. Our nation needs a peaceful transfer of power."
Article continues below advertisement
On Thursday, Elaine Chao revealed she would be stepping down as Transportation Secretary.
"Yesterday, our country experienced a traumatic and entirely avoidable event as supporters of the President stormed the Capitol building following a rally he addressed," she wrote. "As I'm sure is the case with many of you, it has deeply troubled me in a way that I simply cannot set aside."
Throughout the day and night, rioters stormed and vandalized Capitol Hill to try and stop Congress from certifying President-Elect Joe Biden's Electoral College win.
As a result, Trump, 74, hardly did anything to stop the violence. "I know your pain. I know you're hurt," he said in a video. "We had an election that was stolen from us. It was a landslide election, and everyone knows it, especially the other side."
Congress eventually reconvened and the Electoral College count confirmed the victory of Biden, with 306 votes.
Due to Trump's controversial message, he was banned from Twitter, so the White House released a statement in which he said he will leave on January 20.
JIMMY KIMMEL, SOPHIA BUSH AND MORE CELEBS REACT TO TRUMP'S COVID-19 DIAGNOSIS
"Even though I totally disagree with the outcome of the election, and the facts bear me out, nevertheless there will be an orderly transition on January 20th," it read. "I have always said we would continue our fight to ensure that only legal votes were counted. While this represents the end of the greatest first term in presidential history, it's only the beginning of our fight to Make America Great Again!"