NEWS
Inside 84-Year-Old Country Legend Kris Kristofferson's Extremely Private & Low-Key Life With His Wife Lisa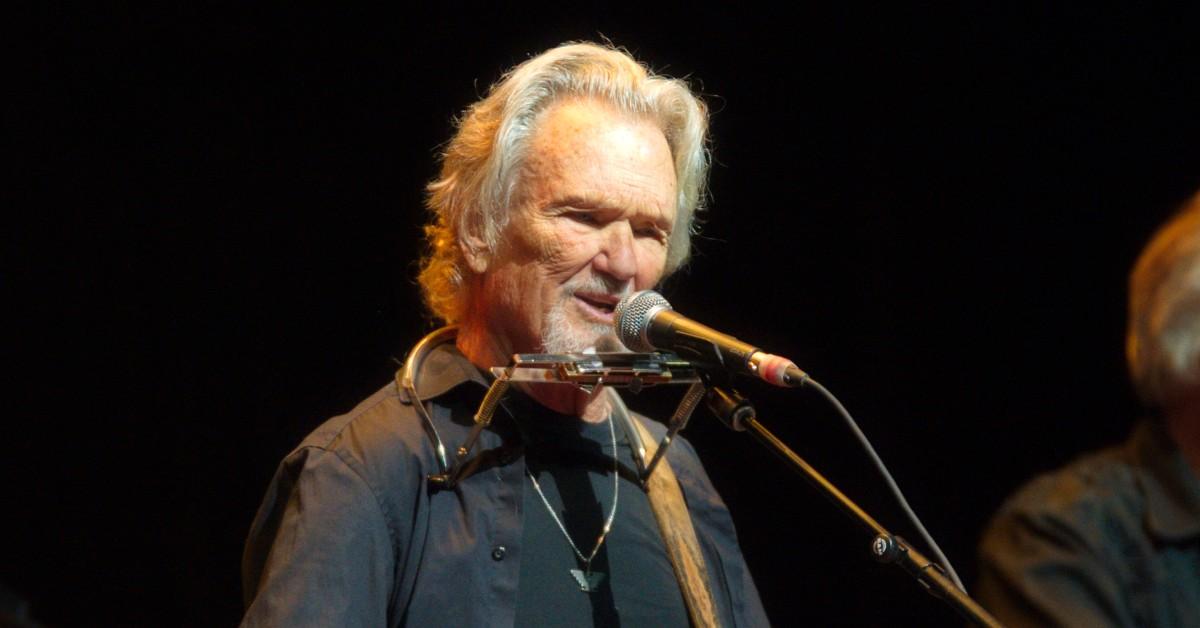 It wasn't always easy for Kris Kristofferson to make it in the music business, but in the beginning of the '70s, the country star finally hit his stride.
Kristofferson, 84, had several hit songs, including "Me and Bobby McGee," "Help Me Make It Through the Night," "Sunday Morning Coming Down" and "For the Good Times," which all topped the charts.
Article continues below advertisement
Kristofferson paved the way for other performers, and soon enough, he dabbled in acting. In 1977, he won a Golden Globe for Best Actor in A Star Is Born, which also starred Barbra Streisand, and he appeared in other flicks, including Lone Star, Alice Doesn't Live Here Anymore, Blume In Love and many more.
Article continues below advertisement
He continued, "Doctor said my liver was the size of a football and that if I didn't quit, I was gonna kill myself. I had a new little daughter, so I quit. I drink wine today, but at the time I just went cold turkey. It was probably harder on the people around me than on myself."
Since then, the Grammy winner — who has eight children from three marriages — has recorded 29 albums and spent three decades performing for his fans all over the world. Despite his old age, Kristofferson released The Cedar Creek Sessions in 2016, which was recorded live at Austin's Cedar Creek Recording Studio in 2014.
Article continues below advertisement
"There's an honesty in the sparseness," he said about the intimate setting. "It feels like a direct communication to the listener. I still have more fun when I'm with the band, but being alone is freer, somehow. It's like being an old blues guy, just completely stripped away."
But trouble arose when Kristofferson began to suffer from memory loss, and he would forget what he was doing in his day-to-day life. Then, in 2016, a doctor tested the country star for Lyme disease, which came back positive.
"He was taking all these medications for things he doesn't have, and they all have side effects," Kristofferson's wife of 37 years, Lisa Meyers, told Rolling Stone in 2016.
Article continues below advertisement
Kristofferson stopped taking his Alzheimer's and depression pills, and "all of a sudden he was back," she said. "Some days he's perfectly normal and it's easy to forget that he is even battling anything."
These days, Kristofferson spends his days with his wife at their home in Malibu, Calif. The actor, who had a rumored affair with his costar Streisand, is "amazed" at how far he's come. "I was on my way to a totally different life," he said. "And all of a sudden I committed my future and all my family and everything to this! It was pretty scary."
10 CONFESSIONS FROM MARIAH CARYE'S MEMOIR: LOVE, CHILDHOOD ABUSE & HER 'LAMBS'
Article continues below advertisement
Kristofferson spends "most of my time on my tractor, mowing the grass around there," he said. "That's my therapy. No one can mess with me on the tractor."
Due to his age, Kristofferson doesn't "feel very creative anymore" and admits he feels "like an old boxer."
"The brain's gone, but I can still move around," he shared. However, his wife divulged that "he leaves little pieces of songs lying around the house all the time."
"I may have some more creative work in me," he later revealed. "But if I don't, it's not going to hurt me."
Article continues below advertisement
It seems like the legend was able to squeeze out some creative juice during quarantine, as a source told OK! that he was working on a memoir.
Kristofferson is planning on telling all — from his rumored affairs to his volatile second marriage to Rita Coolidge and his battle with alcohol addiction.