ROYALS
'Good Morning' Turned Bad! Piers Morgan Storms Off Stage After Being Slammed For Doubting Meghan Markle's Bombshell Claims: Watch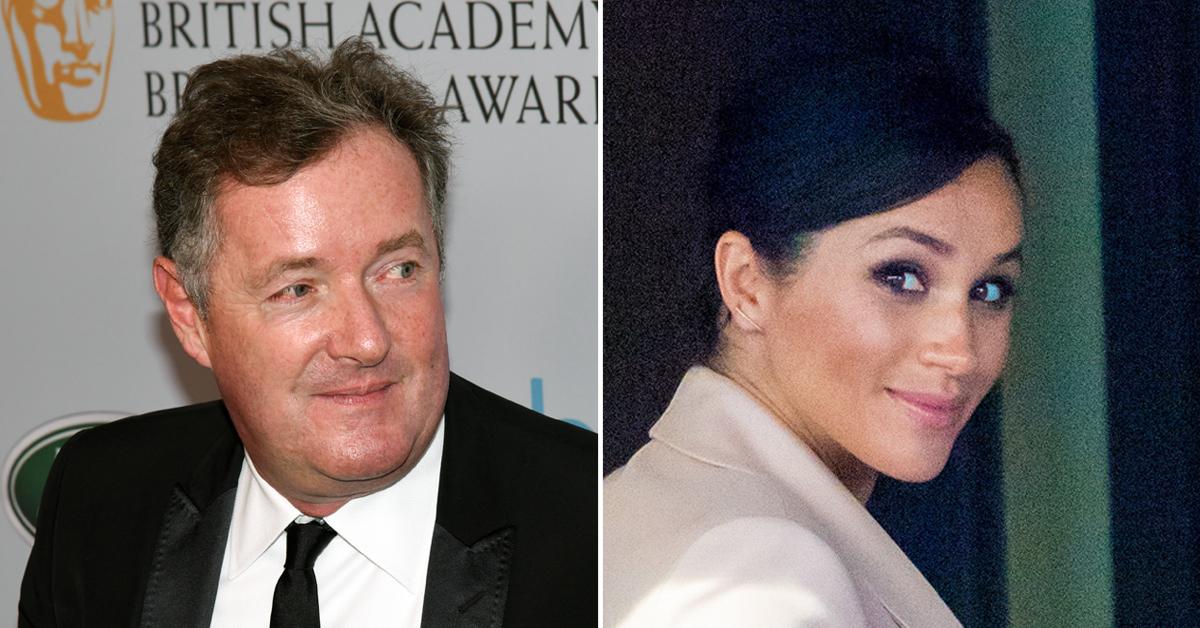 It was not such a Good Morning for Piers Morgan. The former CNN show presenter walked off stage live on Good Morning Britain on Tuesday, March 9, after co-star Alex Beresford challenged the previous comments he made about Meghan Markle following her and Prince Harry's interview with Oprah Winfrey.
Beresford, 40, called out Morgan, 55, for his "diabolical behavior" one day after Morgan slammed Markle on Monday, March 8 — which prompted a complaint from mental health charity Mind — saying he didn't believe the validity of the Duchess' claims.
Article continues below advertisement
Article continues below advertisement
During the Monday episode of Good Morning Britain, Morgan reacted to Markle's claims that her request for help from the royals was denied. "Who did you go to? What did they say to you? I'm sorry, I don't believe a word she said, Meghan Markle. I wouldn't believe it if she read me a weather report," Morgan said. "The fact that she's fired up this onslaught against our Royal Family I think is contemptible."
Later that morning, Morgan also referred to the soon-to-be mother-of-two as the "Pinocchio Princess" in a tweet.
While calling out Morgan's previous statements, Beresford said: "I'm sorry, but Piers spouts off on a regular basis and we all have to sit there and listen. Six-thirty to seven o'clock yesterday was incredibly hard to watch. Incredibly hard to watch… He has the ability to come in here and talk from a position where he doesn't fully understand."
Article continues below advertisement
Morgan finally had enough of Beresford's comments when he said Markle shunned Morgan in the past. "I understand that you don't like Meghan Markle," Beresford continued, noting that Morgan has made his distaste for the brunette beauty "so clear, a number of times on this program."
"And I understand that you've got a personal relationship with Meghan Markle and she cut you off, she's entitled to cut you off, if she wants to," he added. "Has she said anything about you since she cut you off? I don't think she has. But yet you continue to trash her."
Article continues below advertisement
Amid the televised feud, Morgan clarified his views on the Duchess' suicidal thoughts versus mental illness in general. While recalling his remarks on the Monday episode, Morgan stated: "I said as an all-encompassing thing, I don't believe what Meghan Markle is saying generally in this interview, and I still have serious concerns about the veracity of a lot of what she said," before sharing his "position on mental illness and on suicide."
Article continues below advertisement
Morgan said that "mental illness and suicide" are "clearly extremely serious things" that should be "taken extremely seriously." He encouraged anyone who "is feeling that way" to "get the treatment and the help that they need every time," adding: "And if they belong to an institution like the royal family and they go and seek that help, it should absolutely be given. It's not for me to question if she felt suicidal. I wasn't in her mind and that's for her to say."
While Morgan admitted he was "prepared to be proven wrong," when it came to him doubting the legitimacy of Markle's claims, he said his "real concern" with the situation is "that she went to a senior member of the royal household, told them she was suicidal and was told she could not have any help because it would be a bad look for the family."
If these claims are true, Morgan insisted that the senior member who turned Markle down should be fired and said the royal family would have to answer serious questions as to how they handled Markle's cry for help.