EXCLUSIVE
Trump Rape Accuser E. Jean Carroll Fights Back Against DOJ—Insisting On Trump's DNA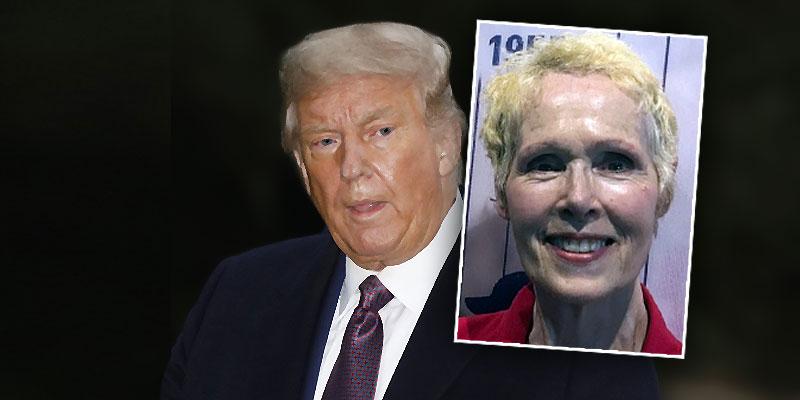 President Donald Trump left Walter Reed Medical Center on Monday evening just hours before a judge could have ordered him to submit a DNA swab in his ongoing legal battle with writer E. Jean Carroll. Last year, the famed advice columnist accused President Trump of raping her in the 1990s and is suing him for defamation after he publicly denied her allegations.
On the evening of Monday, October 5 (the same night Trump arrived back at the White House, following his bout with COVID-19), lawyers for Carroll filed their response to an eleventh-hour motion, submitted by Attorney General William Barr last month, which managed to delay the date by which President Trump needs to submit to a DNA test.
Article continues below advertisement
The move for the Department of Justice to step in and replace Trump's private lawyers in the case would protect Trump from being sued for defamation; Carroll's lawyers have asked a judge to block the shift. The judge in the case could not decide whether to side with Barr and dismiss the case or dismiss Barr's motion and sign a court order forcing President Trump to submit his DNA.
INSIDE THE EXPLOSIVE WHITE HOUSE COVID-19 CRISIS — EVERYTHING WE KNOW
Lawyers for Carroll have been seeking a cheek swab from President Trump to compare with DNA on the dress Carroll was wearing on the day she claims President Trump raped her in the dressing room of an upscale Manhattan department store. That request is on hold, however, after Attorney General Bill Barr submitted a motion asking the court to remove President Trump as the defendant in the case and move the lawsuit from state to federal court.
Article continues below advertisement
Barr said in his filing that President Trump was acting in his capacity as a government employee when he denied Carroll's allegations. That line drew a rebuttal from Carroll and her attorneys, who wrote in their response to the motion: "There is not a single person in the United States — not the president and not anyone else — whose job description includes slandering women they sexually assaulted."
Article continues below advertisement
Lawyers for President Trump have managed to delay the proceedings at every turn. Carroll and her lawyers were unable to serve him for months, and once they did get him the court documents, his attorneys asked for a dismissal. The defense pointed to the fact that the sitting President cannot stand trial, prompting Carroll and her lawyers to point out that the offense, which resulted in the defamatory statements, did not happen while he was in office.
Article continues below advertisement
President Trump denied Carroll's claims in three interviews after a preview of her memoir was released by New York magazine. "I'll say it with great respect: Number one, she's not my type. Number two, it never happened. It never happened, OK?" he said in one interview.
President Trump, who was married to Marla Maples at the time of the alleged offense, then doubled down on his claim that he and Carroll had never met, despite a photo showing the pair in conversation at a 1987 event.