EXCLUSIVE
Katie Holmes Is 'Head Over Heels' For BF Emilio Vitolo Jr., Says Source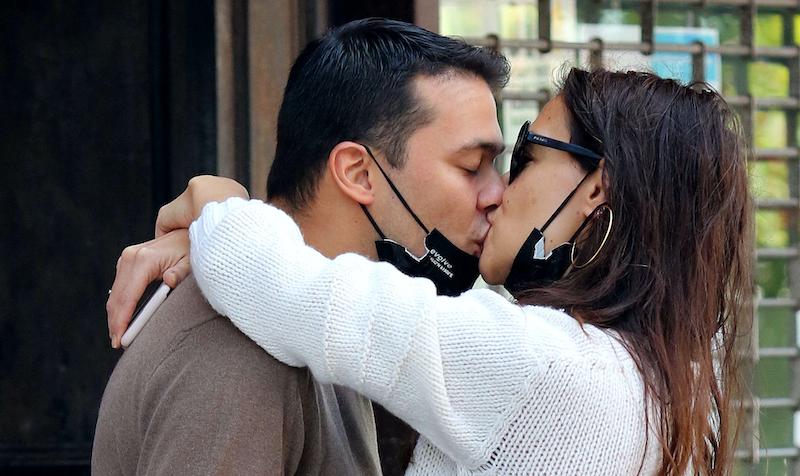 Katie Holmes is smitten with her new man — and doesn't care who knows it! The famously private Dawson's Creek star — who's remained majorly tight-lipped about her love life for the past decade and a half — is so "head over heels" for her current beau, chef Emilio Vitolo Jr., she's practically a PDA machine, a source exclusively tells OK!.
Holmes, 41, met the hunky New Yorker, who works at his father's celeb-favored hotspot Emilio's Ballato, through mutual pals several months ago. What started as a friendly connection — with the restaurateur, 33, innocently flirting in Holmes' Insta comments — went into overdrive in early September, when the duo was spotted giggling and making out nonstop at multiple downtown eateries.
Article continues below advertisement
Her romance with Jamie Foxx, from 2013-2019, was similarly shrouded in secrecy — and the Oscar winner went to great lengths to keep it that way. Foxx repeatedly denied the relationship and even abruptly ended an interview when the topic of Holmes came up.
MEET KATIE HOLMES' NEW MAN EMILIO VITOLO — 5 FAST FACTS ABOUT THE RESTAURATEUR
"Jamie always insisted they tiptoe around like there was something taboo about the fact that they were dating," says the source. "Emilio knows he hit the jackpot with Katie and is more than happy to shout their love from the rooftops."
Article continues below advertisement
Luckily, Holmes' daughter, Suri Cruise, "approves" of her mom's new relationship, another source previously told OK!. "Suri is happy that her mom is happy, and there isn't much more to it at the moment. If things get more serious, then obviously, Suri will be involved too. Katie and Suri are a package deal. You cannot get one without the other," the insider shared.
In fact, the 14-year-old will soon make an appearance alongside the pair. "Katie isn't hiding this new romance. After seven years of creeping around with Jamie, hiding from photographers and slipping into restaurants through the kitchens so no one would see them, Katie has vowed to never live like that again," the insider dished.
KATIE HOLMES PACKS ON THE PDA IN NYC WITH NEW BOYFRIEND EMILIO VITOLO JR
"She is single and a grown woman and she will date whoever she wants and be proud of her choices. Additionally, her daughter, Suri, is the most important person in her life, which is why it is important for Emilio and Suri to develop a relationship. Not just behind closed doors but also in public. It won't be long until the family is all spotted out together," the source revealed.