NEWS
Vote for All the OK! TV Awards in One Place!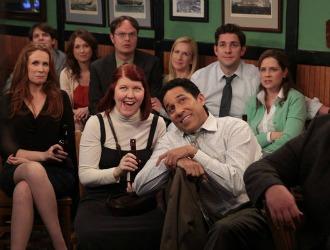 All ten of the OK! TV Awards nominations are now up and available for voting! The race is on, so be sure to make your picks.
The show currently winning is a shocker, mostly because it just got canceled! Talk about a womp, womp. Get in there and vote for a show that might actually survive to the fall!
Category #2: Best New Reality Show
Unsurprisingly, this one is dominated by Bravo shows! But it's also one of the few awards being split evenly. Let us know your picks!
Article continues below advertisement
Category #3: Best Couple on TV
As adorable as all the adult pairs are, trust those Pretty Little Liars fans to control all votes for this one! The PLL fans are winning with a monstrous 71%.
This category starts a bit of a trend with the OK! TV Awards, in that Glee is dominating. If Glee is involved, it's like everyone else can basically go home. Good for Gleeks, bad for the rest of us who have watched anything else this year!
Category #5: Best Musical Moment
Again, Glee is killing it—in a category with the adorable little girls from Nashville! Surely, you're not going to let the little girls from Nashville down?!
Kurt from Glee is winning this one, too, but that adorkable Zooey Deschanel is using her bangs and genuine charm to inch her way up.
This is another one of the few categories with a fairly even race, but of course those Gleeks have snuck their way into this one! Melissa Benoist is currently winning by a hair.
Article continues below advertisement
Category #8: Craziest Fan Base
Um, do you know anyone who watches Supernatural? Apparently, you do, because this show is making it completely unfair for everyone else. At 95%, it's killing even the Pretty Little Liars fans! Insane.
Category #9: Most Shocking Moment
That hot kiss from New Girl is currently ahead of the pack, but it's pretty even split. Get in there and vote!
Need a break from all that tense stuff in the most shocking moment category? Watch some of the videos in the funniest moment post, and hey, don't forget to vote.
Is there one show you're voting for across the board? Is there a category you'd like us to add? Are you shocked that the fans from Supernatural are so insane, or are you one of them? Tell us in the comments below or tweet us @OKMagazine.