EXCLUSIVE
'He's Always Wanted This': 'Perverse' Armie Hammer 'Secretly Enjoying All The Attention' After Alleged DMs Take Over The Internet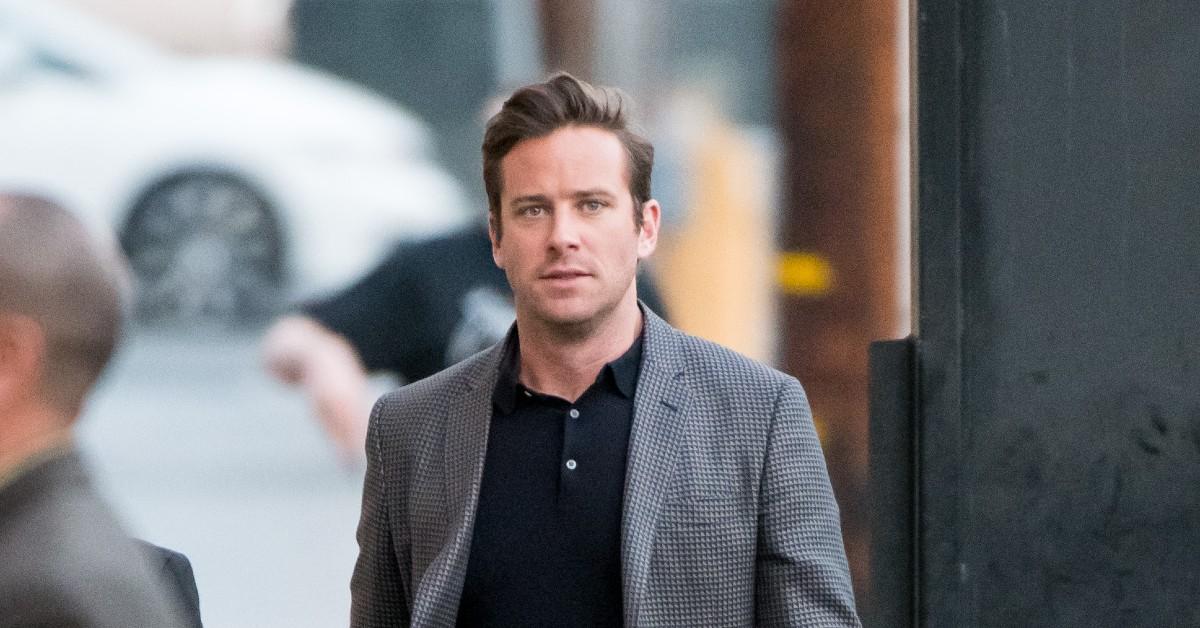 Hollywood star Armie Hammer's alleged DMs — which detail shocking sexual desires — have repulsed the world. However, Hammer isn't so upset, but rather loving his five minutes of fame, OK! has learned.
Article continues below advertisement
"Armie has been trying to be an A-list star for decades. He has never had that breakout role that turned him into the next Brad Pitt, George Clooney or Ben Affleck. Despite making dozens of movies, he was always that handsome guy the people sort of recognized but didn't know his name. All that has changed now, and he is secretly enjoying all the attention," a source exclusively tells OK!.
Article continues below advertisement
"This level of attention for a narcissist is addictive. Feeling like the whole world is talking about you is a drug. This is why some stars believe no publicity is bad publicity. Armie has a God complex and this fits perfectly into that. He feels like it is him against the entire world. He has become his own hobby talking about this all day," adds a pal. "He think's he's Kim Kardashian in the middle of a sex tape scandal or Tiger Woods caught with a mistress. It's perverse, but he's always wanted this."
Last week, Hammer's alleged text messages — which discuss cannibalistic thoughts and sexual fantasies — were leaked on the internet.
"I need to eat your entire body. I need to touch every part of you, inside and out ... I want to bite pieces off of you," one of the messages read.
Article continues below advertisement
Paige Lorenze wrote, "Anyone got a good therapist?" while Jessica Ciencin Henriquez commented, "If you are still questioning whether or not those Armie Hammer DMs are real (and they are) maybe you should start questioning why we live in a culture willing to give abusers the benefit of the doubt instead of victims. 🤔 TW// sexual violence," she wrote, adding screen grabs of the alleged messages.
INSIDE ARMIE HAMMER & ELIZABETH CHAMBERS'S $5.8 MILLION HOME: SEE PHOTOS
Article continues below advertisement
Henriquez added: "Because some of you made it to adulthood without knowing what this is. Abuse: cruel and violent treatment of a person or animal."
Making matters worse, more supposed evidence of Hammer's drug use and infidelity have been brought to light.
On the Call Me by Your Name star's private Instagram account — username @el_destructo_86 — he allegedly shared a short clip of himself taking a hit from a vape pen, writing, "When you realize they don't test for DMT on drug tests."
Article continues below advertisement
"Divorce is so fun. Not as fun as drugs," another private post reportedly read, seemingly referring to Hammer's split from Elizabeth Chambers. "But what is."
After Hammer — who recently dropped out of his upcoming film Shotgun Wedding — made headlines, he finally made a comment about the allegations against him.
Article continues below advertisement
As for what Hammer's ex thinks about the whole fiasco? Chambers, 38, has reportedly "not processed any of this yet" and is "really shocked" over the claims against the father of her children.