COUPLES
Elizabeth Chambers Is 'Really Shocked' By Armie Hammer's Scandal, Trying To Shield Their Kids: Source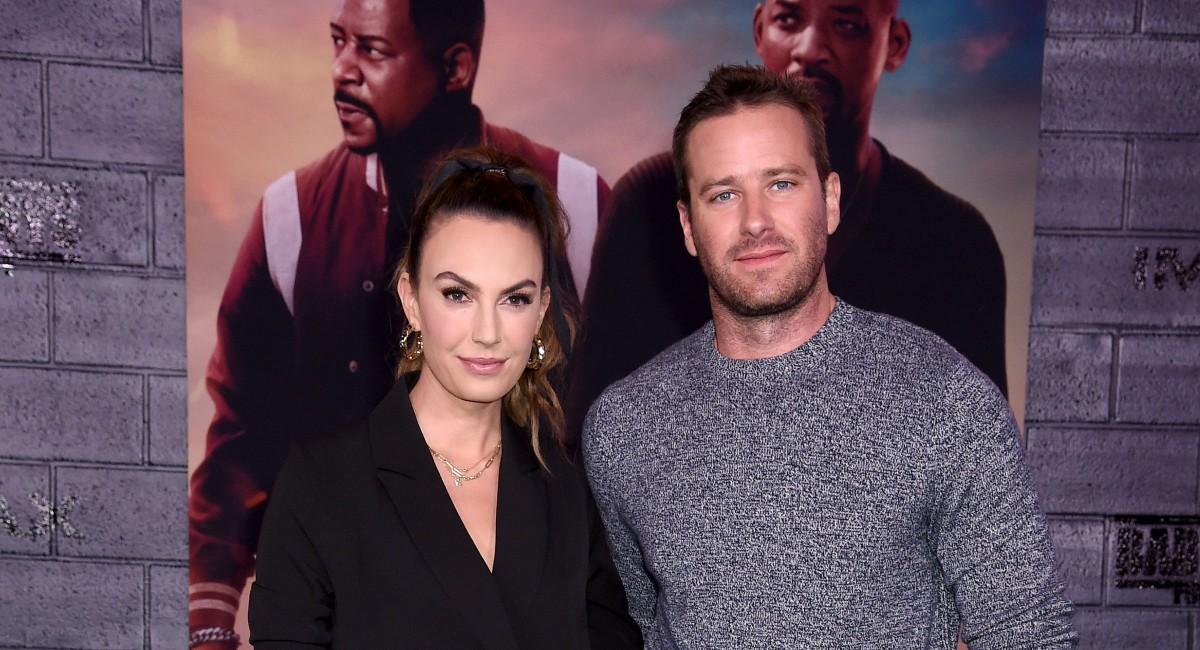 While several of Armie Hammer's lovers of past and present continue to air out the star's apparent dirty laundry — which includes alleged infidelity, abuse, drug use and his thoughts of cannibalism — one woman in his life has stayed silent: estranged wife Elizabeth Chambers.
The actor, 34, and Chambers, 38, announced their separation last July, but have been living together with their two kids in the Cayman Islands during the pandemic. 
Article continues below advertisement
Time away from the limelight is just what the actress needs, as a source stated Chambers has "not processed any of this yet" and is "really shocked" over the claims against Hammer.
SOCIAL DISTANCING FOR GOOD: CELEB COUPLES WHO'VE CALLED IT QUITS DURING QUARANTINE
"They went out to the Cayman Islands at the beginning of the pandemic in March as a family and Armie left in late June to go back to California," the source explained. "She's basically been a single mom since then, Armie didn't see the kids for five months. The kids are her number one priority, so on top of all the emotional stuff she has two kids to take to school and make sure they're not affected."
Article continues below advertisement
The actor had nabbed parts in a handful of successful movies like The Social Network, but it wasn't until the second half of the 2010s that his career really took off, with starring roles in The Birth of a Nation, Call Me by Your Name and On The Basis of Sex. As his profile rose, so did the female attention.
"Women were texting him, chasing him," the source noted, "and when he would drink, that's when he'd run around. Everyone thought he and Elizabeth decided to have an open marriage."
"He seemed to be getting a bit of a God complex — like he's so famous and rich, he's above reproach," a Hollywood insider noted. "That can lead to some actors having very bad behavior."
Still, the first source said that Hammer never brought up the idea of cannibalism during their relationship; at most, he had a passion for grilling meats.
"[These messages] are very shocking for her," the source said. "He never did any of the weird s**t with her."
Article continues below advertisement
"My mind is blown. He always appeared so totally normal, he loves grilling, I mean — he was so excited about buying a new smoker and he would have friends over for barbecues and cocktails," a third source shared. "None of this seems like the Armie that I know. He needs help. Something is terribly wrong, and I just wonder if it's drugs."
As OK! previously reported, the star has been seen drinking beer while driving, was arrested in 2011 for using marijuana and allegedly documented drug use and at-home drug tests on his secret Instagram account, which he recently confirmed is in fact operated by him.
While he's never acknowledged an addiction, the actor admitted that living in lockdown due to COVID-19 had a negative effect on him, eventually leading him to go to therapy.