Scottie Pippen Calls Former Chicago Bulls Coach Phil Jackson 'A Racist,' Slams Michael Jordan For 'Selfish' Decisions
Scottie Pippen has a lot to say about his time on the NBA's Chicago Bulls, which includes bashing former coach Phil Jackson and iconic teammate Michael Jordan.
Article continues below advertisement
While on "The Dan Patrick Show" on Monday, June 28, Pippen — who has been promoting his new bourbon brand, Digits, and upcoming memoir, Unguarded — doubled down on a previous comment that Jackson's decision to play former teammate Toni Kukoč in the final seconds of the 1994 playoff game was racially motivated.
During a recent GQ interview, published June 24, the Hall of Famer recalled the final play during Game 3 of the Eastern Conference Semifinals against the Knicks. At the time, Jackson gave the final shot to Kukoč, Pippen's white teammate, and the 55-year-old famously refused to play those final seconds of the game.
Article continues below advertisement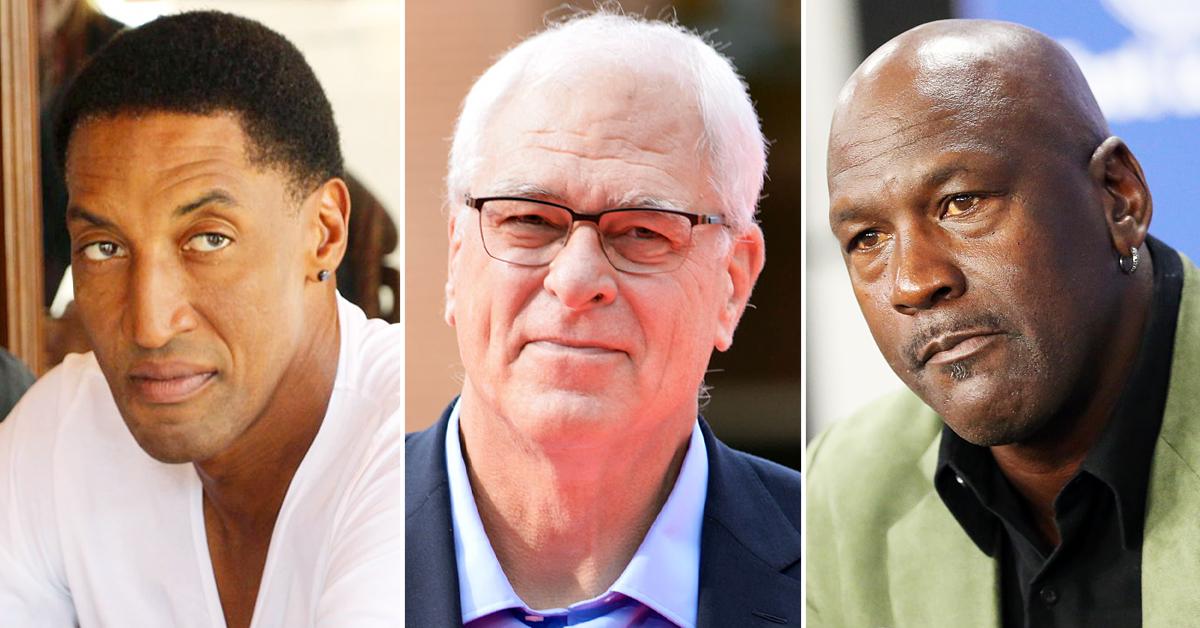 The controversial moment was documented on Jordan's The Last Dance documentary, which aired last summer, that chronicled the cultural icon's career and final seasons on the Bulls.
Article continues below advertisement
Pippen, who was always second fiddle to Jordan, explained it was his first year without teammate and leader Jordan — who retired from the NBA to play baseball prior to the 1993-1994 season — and he was confused as to why he wouldn't be taking the last shot.
Article continues below advertisement
"It was a racial move to give [Toni] a rise," Pippen said in the GQ interview of Jackson's decision. "You're insulting me. That's how I felt."
During Pippen's most recent interview discussing Game 3, host Patrick referred to his past statement, saying: "By saying it was a racial move then you're calling Phil Jackson a racist," to which Pippen candidly responded, "I don't have a problem with that." Patrick asked once again if Pippen felt his former coach was a racist, leading him to candidly reply: "Oh yeah."
Article continues below advertisement
And while it's unclear if Jackson's decision to allow sharpshooter Kukoč — who had successfully run the play for the Bulls earlier in the season — to take the final shot was based on racist intentions, Pippen isn't the only Black NBA pro to make such claims against the 75-year-old.
LeBron James and other current elite players previously slammed Jackson after he called LeBron's mother, friends and business partners his "posse," NBC Sports reported.
Article continues below advertisement
Meanwhile, the six-time NBA champ also didn't shy away from going after Jordan, who left his team after three championships to switch careers. While Pippen said Jordan's move over to baseball was "a big decision," he candidly noted that it was also "a selfish decision."
Article continues below advertisement
Pippen said "it was kind of who Michael Jordan was," explaining: "That was a guy who believed he can do anything on his own."
Article continues below advertisement
Pippen's Unguarded memoir, expected to be released this fall, will touch on how he felt he deserved more respect from the press and the organization as well as how he, not Jordan, "earned" the credit for the Bulls' historic rise, according to Pippen.
The NBA all-star shares children Scotty Jr., 20, Preston, 19, Justin, 16, and Sophia, 13, with estranged wife Larsa Pippen. The former flames called it quits in 2018 after 20 years together