PHOTOS
Dale Moss Wins Over Clare Crawley On 'The Bachelorette' — 5 Fast Facts About Him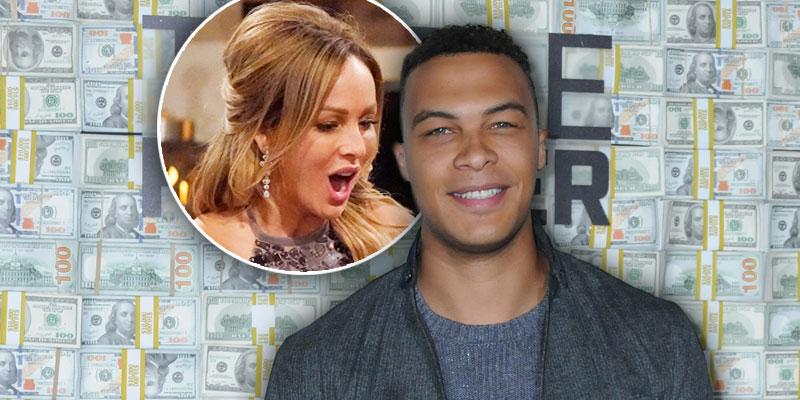 Article continues below advertisement
After just 12 days of filming, Crawley and Moss left the set together. "Producers were shocked by her choice," a source told Us Weekly about their exit. "They had to find a way to continue the show without just starting from scratch."
Enter: Tayshia Adams, the new Bachelorette. Crawley won't confirm that Adams, 30, takes her place, but she admitted she is a big fan of hers. "I think she's beautiful, I think she's a very grounded woman, a woman who knows what she wants," she told Entertainment Tonight. "I completely support that, I supported her .... I've wanted her to be the Bachelorette forever. I always was for that."
He Was In The NFL
The handsome hunk was a wide receiver on the Green Bay Packers in 2012 and also played on the Tampa Bay Buccaneers and Chicago Bears during his three-year career. However, after Moss hurt his shoulder, he had to step away from the sport.
"I never regretted once when I chose to stop playing football," Moss told Forbes in February 2019. "I'm exactly where I'm meant to be and I'm the happiest I've ever been."
Article continues below advertisement
He's A Model And Host
"My passion for storytelling and ability to connect with people across different industries has made me a sought after entertainment host and media personality. Beyond being featured in some of the industry's top fashion, fitness, lifestyle publications, I've expanded my reach producing and providing creative direction on projects with global brands such as Under Armour, Hugo Boss, Express, United Airlines and the top media outlets," he wrote on his website.
Per Moss' LinkedIn, he lists himself as a fashion and fitness model, in addition to a sports and entertainment host.
Article continues below advertisement
He's Close With His Family
"To this day, my sisters and my mother have shaped me into the man I am," Moss told Forbes in February 2019. "I've always had strong, powerful women in my life and they've helped me in every aspect. They're part of my team, my core and that's definitely what keeps me grounded."
Article continues below advertisement
He Is A Global Ambassador For The Special Olympics
Moss has been a Global Ambassador for the Special Olympics since 2015 after his older sister Amber was not able to walk when she was 5 years old. "She participated in the Special Olympics as a child, which is how I started getting involved," he told Express in 2019. "Now as a Special Olympics global ambassador, my job is to raise awareness for inclusive measures on a global scale. That includes the Healthy Athletes program, which provides health screenings for those with intellectual disabilities, and also the Unified Schools program, which helps Special Olympics athletes find jobs and sustain a meaningful life."
Article continues below advertisement
He Is Looking For These Qualities In A Woman
"If you have energy, you carry yourself with confidence, and you connect and have a conversation, you can see into their soul, you can really get a good feel," he said on an episode of the MaleRoom in October 2019. "I think romance is a little bit of vulnerability, to be honest. You have to be willing to fail, but also I think sometimes you have to say, 'Screw it,' and take a chance, not really knowing what's going to happen. If I could put it in one word, vulnerability is a level of romance. And at the end of the day, you have to have passion and love at the same time."