VIDEOS
Watch Video As Kim Kardashian Freaks Out Over North's Spider Obsession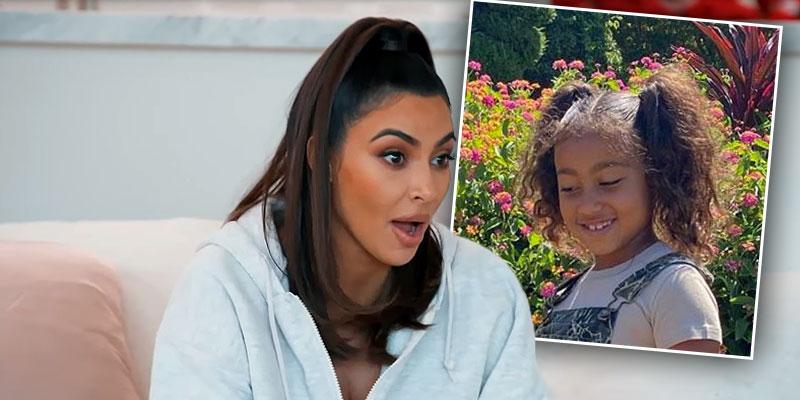 In the hilarious new clip from season 19 of Keeping Up With the Kardashians, Kim Kardashian and sister Khloé Kardashian discussed North West's desire to make an eight-legged creature her next pet.
"So, somehow North conned me into going to this pet store," the KKW Beauty founder began. "And she wants to see the tarantulas."
The makeup mogul recalled how she went up to the lady who worked at the store and said, "Listen, I'll pay you 100 bucks. Just say they're mean to kids, not good pets. They bite everyone." However, the conversation didn't go as planned since the pet store worker asked North if she would like to hold the spider.
Article continues below advertisement
Meanwhile, Khloé "always" knew North "had an obsession with spiders" but wasn't sure "why."
"It's just, like, it's so ironic cause Kimberly is so afraid of them," she noted. The Good American founder wanted to be supportive of North and made it her mission to help her older sis conquer her fear. "What are you gonna do?" she asked Kim.
SPOTTED! KIM KARDASHIAN SHOWS OFF HOURGLASS FIGURE DURING MALIBU NIGHT OUT
Article continues below advertisement
Kim jokingly came up with a plan to tell her eldest child that she heard "all these kids died at a school from tarantula bites," causing the duo to crack up. The mom of one replied: "That's not good."
In September, the 39-year-old announced that KUWTK would end after 14 years. While the family has already begun filming for the final season — which premieres in 2021 — there is still so much drama to come.
Article continues below advertisement
THE 10 BEST MOMENTS FROM 'KEEPING UP WITH THE KARDASHIANS'
As for Kim's plans, she tried getting a deal for her own reality show, but a source exclusively told OK! that "no one cares about her anymore." With KUWTK ratings dwindling over the years, streaming services and networks have no interest in making a deal with the savvy businesswoman.
"The previous season of KUWTK was bad enough with just 800,000 viewers," the source dished. "No one thought it could drop much below that, but it did. This isn't good news for Kim when she's trying to get a new deal. It is over."
THE LORD IS HERE! 10 MOST RELATABLE AND ICONIC SCOTT DISICKCOMMENTS FROM 'KUWTK'
The Kardashian-Jenner family was fired by E! because the network refused to shell out $150 million to the famous family for the next five years. "The last deal Kris Jenner signed was in 2017 giving her and the family $30 million per season. That deal has expired, and greedy Kris wanted at least $40 million per season to continue even though ratings have been declining dramatically," a source told OK!, adding that the "negotiations were going nowhere," and "in the end, it was better for everyone to say goodbye."
Keeping Up with the Kardashians airs on Thursdays at 8 p.m. ET on E!