COUPLES
Off The Market: Diddy Spotted Kissing Brian Austin Green's Ex During Beach Outing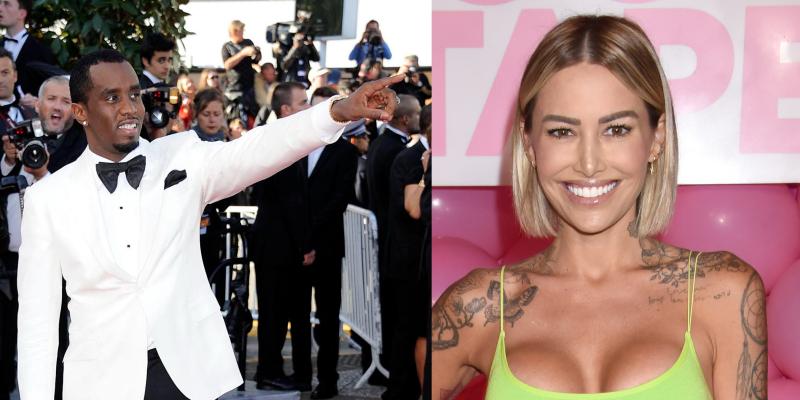 Diddy appears to be off the market after photos of the music mogul making out with Brian Austin Green's ex-girlfriend, Tina Louise, surfaced online on Tuesday, October 12.
The pair was seen frolicking on the beach in Malibu, Calif., while additional photos obtained by the Daily Mail showed the pair passionately kissing one another, completely oblivious to the fact they were being photographed during their romantic outing.
Article continues below advertisement
Article continues below advertisement
Louise looked stunning in a colorful bikini paired with white-rimmed glasses, while Green kept it casual in a pair of swimming trunks and black shades.
A source gushed to PEOPLE at the time that Green had his hands full with his three kids while Fox has been out of the country filming her next movie, Midnight in the Switchgrass.
"Megan has been working in Puerto Rico so Brian has been a full-time dad," a source said. "He loves his boys and they are his focus. With the boys around, it's not easy for him to date. He is taking a break from dating and is totally fine with it."
CARDI B, BELLA THORNE & MORE! 13 CELEBS WHO HAVE ONLYFANS ACCOUNTS
Though he's been seen out and about with Louise on a handful of occasions since the summer, Green is still holding out that he could potentially get back with Fox somewhere down the line, telling fans he's not ruling out a reconciliation just yet.
"I never say never," Green told fans during an Instagram Live session in August. "I kinda feel like people are on paths in life and sometimes your paths are together and you travel that path together and you see eye to eye and then sometimes paths do different things.
"Right now the paths are different and she is on her path doing what she feels she needs to be doing to be happy and I'm on my path doing what I feel I need to do to be happy and it's not for a lack of love for the kids or lack of being responsible," he shared.