NEWS
James Corden Addresses Rumors He's Replacing Ellen DeGeneres On Her Talk Show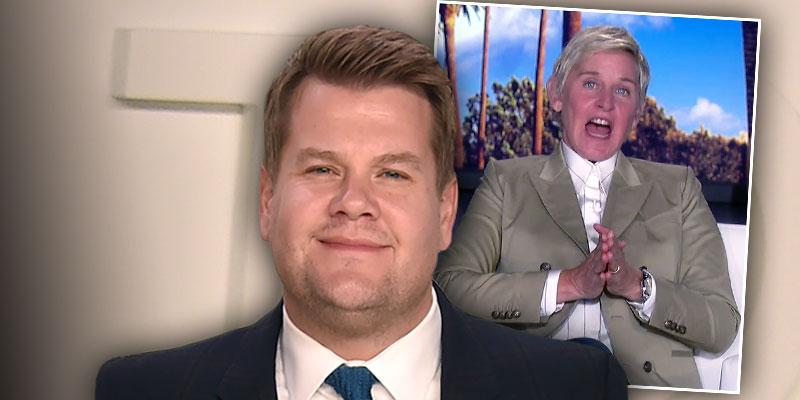 James Corden finally set the record straight on rumors that he would replace Ellen DeGeneres on her talk show following claims that her set is a "toxic" place to work.
"Genuinely, I have no idea where that even came from," the 42-year-old said during the latest episode of The Late Late Show. "I think somebody started a rumor somewhere and someone jumped on the thing. There is absolutely no truth in that story at all. Zero."
Article continues below advertisement
AXED: ELLEN REMOVED FROM THE AIR, REPLACED WITH DESPERATE HOUSEWIVES RERUNS
"As far as considering it, I think it would be a really crazy thing to take over from someone who I think has done the job so outrageously well, for like, 18 years," he continued. "It's not true. And I think when the day comes to end this show, it will be the day to probably stop hosting a show every day. So, no I wouldn't."
On Monday, September 21, DeGeneres returned to the studio for the first time since former staffers spoke to BuzzFeed News in July about the show's hostile environment. In the 62-year-old's opening monologue, she addressed the elephant in the room and got candid with the virtual audience.
"As you may have heard, this summer there were allegations of a toxic work environment at our show, and then there was an investigation," she began. "I learned that things happened here that never should have happened. I take that very seriously, and I want to say I am so sorry to the people who are affected. I know that I am in a position of privilege and power, and I realize with that comes responsibility, and I take responsibility for what happens at my show."
Article continues below advertisement
Even though the comedian has implemented new changes, a source exclusively told OK! that she is already getting frustrated with how friendly she has to be at work.
TALK SHOW TRAINWRECKS! 25 CELEBS WHO TANKED AS HOSTS
"Ellen is in a lose-lose situation. She is finding herself having to grin like the Cheshire Cat, or else people will say the old, mean Ellen has returned. You can tell being this nice is already getting annoying. Ellen technically is the boss of over 250 staff — now each and every one of them think they can walk into her office with any complaint," the insider shared.
The Finding Dory star "wants to create a great work environment but that doesn't mean feelings won't get hurt when ideas and pitches are possibly rejected for better ones." DeGeneres is "terrified that the next time she says 'no,' staff will go running to the press," the source added.