COUPLES
OK! Told You First: 'Bachelorette' Star Dale Moss Accused Of Cheating On Clare Crawley During Their Relationship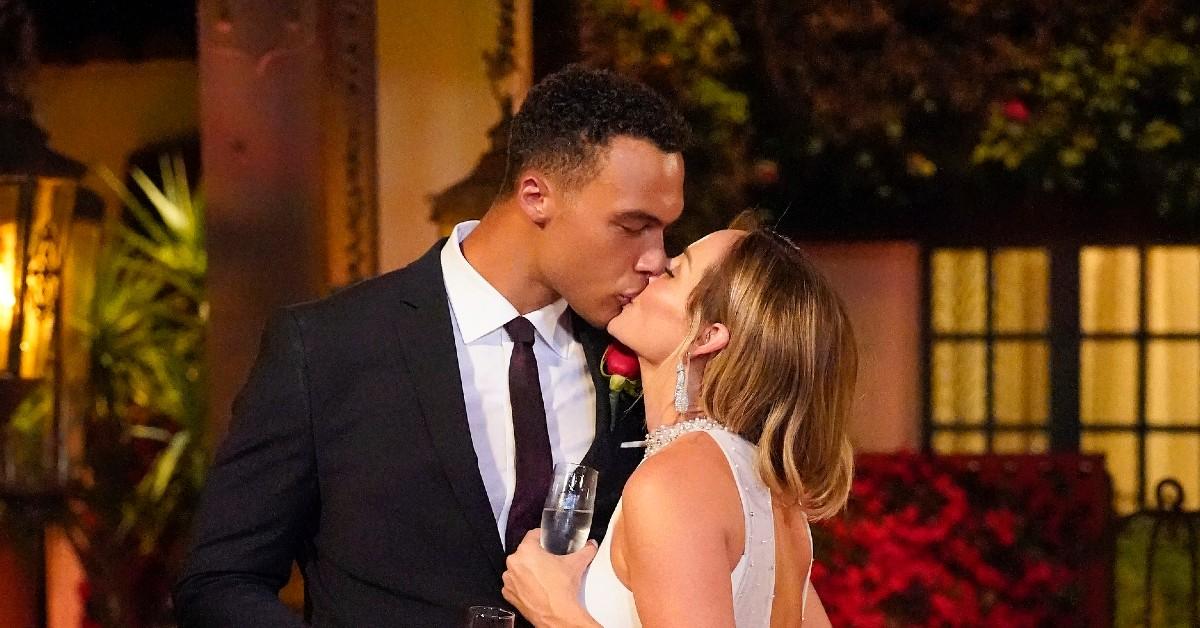 The truth is finally coming out! Dale Moss has been accused of cheating on Clare Crawley throughout their engagement — just two months after OK! exclusively reported that the athlete, 32, was spotted getting flirty with other women while in New York City.
Apparently, Moss has been in touch with an unnamed woman since 2019, but he always told the 39-year-old Bachelorette star that their relationship was platonic.
Article continues below advertisement
OK! was the first to report that Moss was seen "in SoHo with three women" on November 14. "He went to an event at Hugo Boss and was seen leaving with three model types," an insider told OK! at the time. "He was later joined by a fourth who seemed to his friend. Then, he was spotted drinking outside in SoHo, where he was kissing one woman, but like pecks."
Now, a second source recently told E! the South Dakota native was spotted with a woman at Cipriani Downtown that same month, where they enjoyed a candlelit dinner. "It definitely looked like a date," the insider said. "Dale looked really smiley and happy with her. They were laughing and flirting."
Article continues below advertisement
Ultimately, Clare was "always skeptical" about Moss' intentions, the source noted. "She never trusted the friendship and thought it was shady."
The insider added that the woman "has been talking to her friends about sneaking around with Dale," while Crawley "has seen proof" that whenever Moss was in the Big Apple without her, he was not being loyal to his wife-to-be.
However, "Dale would always reassure Clare that it was nothing serious," the source noted, but "multiple people have told Clare that Dale was parading around NYC with this girl."
"Clare would confront him about his relationship and tried to question him about it, but he would always deny it," the source added.
After Moss won over Crawley on The Bachelorette, fans were skeptical about his end game and were curious if he was in it for the right reasons and wasn't just trying to use the show to further his career.
Article continues below advertisement
Now that their relationship is over, Crawley started to see the red flags. "Things are making sense to her now," the source said. "She didn't want to believe it at first but is now heartbroken."
At the end of the day, the two wanted different things, which caused "a lot of their arguments."
"Clare gave up so much to be with Dale, and now he has dumped her. She feels used and is alone again because of his endless ambition," a source exclusively told OK!. "Clare is based in Sacramento and doesn't want to move to New York or L.A. to pursue a career in show business. She had fun being on reality TV but now that it is over, she has moved on. She doesn't want to be a TV host or on Dancing With the Stars. Clare longs for a normal life away from the spotlight. However, Dale is very career focused and believes this is his moment to strike while the iron is hot."
Article continues below advertisement
"I wanted [to] share with you all that Clare and I have decided to go our separate ways," Moss wrote in a statement on his Instagram Story. "We appreciate the love and support we've received from so many people, but this is the healthiest decision for both of us at this time."
Article continues below advertisement
For her part, Crawley shared her story on social media. "I was made aware of a 'mutual' statement at the same time you all were, so I've needed some time to really digest this," the blonde babe via Instagram on Thursday, January 21. "Speaking for myself, my intentions with this relationship have always been very clear, so the truth is I am crushed.
"This is not what I expected or hoped for and I am still trying to process this. 2020 was one hell of a year, with COVID, battling severe anxiety post-show, balancing a public new relationship, all while slowly losing my mother. It hasn't been ideal circumstances, but that is life, right. I have been looking forward to the light at the end of the tunnel."
Crawley admitted their "relationship was not perfect" but she was "genuinely invested with all of my heart."
"I may not have the answers but I do know this — I will continue to show up, stand by my word and be committed to love," she concluded.