EXCLUSIVE
'Biggest Mistake Of Her Life': Clare Crawley Feels Betrayed By Dale Moss After Their Romance Turns Sour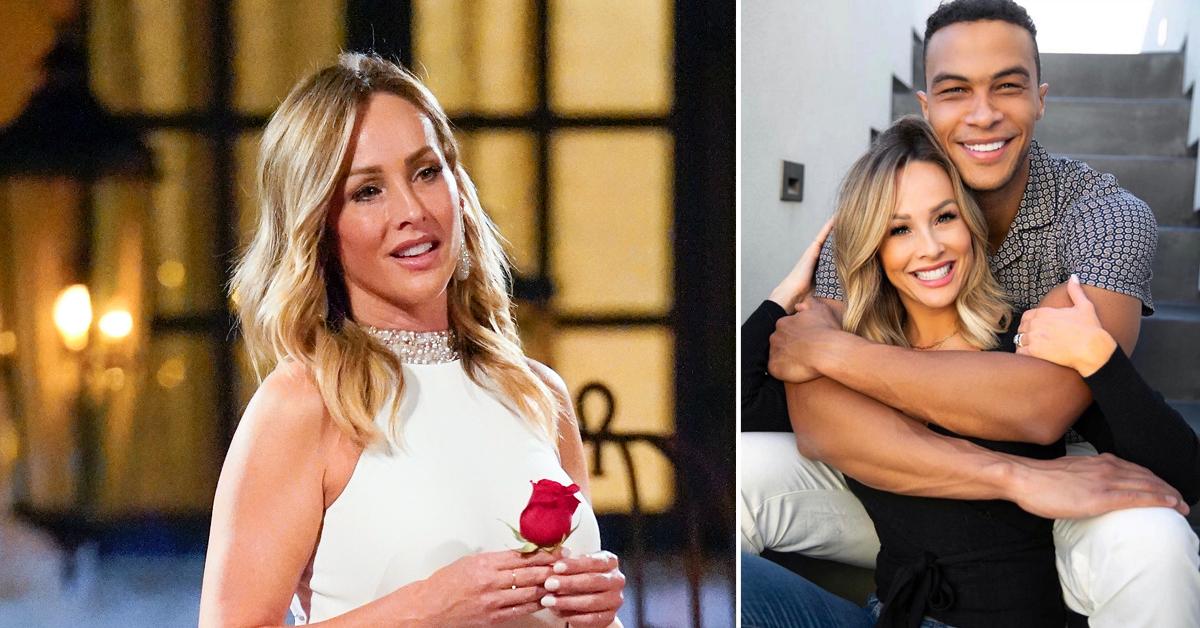 Article continues below advertisement
"Clare gave up so much to be with Dale, and now he has dumped her. She feels used and is alone again because of his endless ambition," a source exclusively tells OK!. "Clare is based in Sacramento and doesn't want to move to New York or L.A. to pursue a career in show business. She had fun being on reality TV but now that it is over, she has moved on. She doesn't want to be a TV host or on Dancing With the Stars. Clare longs for a normal life away from the spotlight. However, Dale is very career focused and believes this is his moment to strike while the iron is hot."
Article continues below advertisement
"Dale is under incredible pressure to be the prince Clare always wanted. He knows the whole nation is going to hate him, but at the same time he isn't rich and needs to pay the rent," adds a pal. "You can't blame him for wanting to go after his career goals. He doesn't want to go from being a TV star to working at a regular job."
Moss previously revealed his career aspirations in June 2020. "Currently, I am a model with Wilhelmina International and a sports and entertainment host," he said. "That's always been one of my focuses. I think how Ryan Seacrest has built a brand and really an empire is amazing, and I would love to model my career after him."
Article continues below advertisement
"I wanted [to] share with you all that Clare and I have decided to go our separate ways," Moss wrote in a statement on his Instagram Story. "We appreciate the love and support we've received from so many people, but this is the healthiest decision for both of us at this time."
He continued, "We strongly believe in leading with love and always remaining true to oneself — something our families have taught and instilled in us throughout our lives. We only hope the best things for one another."
Article continues below advertisement
Moss was also "unsure" about "rushing into something" with Crawley.
Last week, the blonde beauty and the South Dakota native sparked split rumors after they posted cryptic messages on social media.
Article continues below advertisement
On January 15, Crawley admitted that she had a "hard day" while visiting her mom, who suffers from Alzheimer's disease and dementia, while Moss showed moving boxes, hinting that he wasn't shacking up with his fiancée after all.
As OK! exclusively reported, in November, Moss was caught getting flirty with another woman in NYC, which most likely hurt their relationship.
"He went to an event at Hugo Boss and was seen leaving with three model types," a source revealed at the time. "He was later joined by a fourth who seemed to be his friend. Then, he was spotted drinking outside in SoHo, where he was kissing one woman, but like pecks."
Article continues below advertisement
Despite their intense connection, the two couldn't make things work. Moss even gave some insight as to what went wrong between him and the reality starlet.
"Obviously, it's not the greatest situation," he later said when asked how he was feeling. "But, you know, Clare and I have a lot of love for each other and, you know, this is the healthiest thing for us right now."
COLTON, ALI & MORE! BACHELOR OR BACHELORETTES WHO *ALMOST* QUIT THE SHOW
Moss didn't go into too much detail as to why the two called it quits, but he said they both have "a lot going on in our lives right now."
Dale noted he "will be cool" with Crawley going forward.