VIDEOS
Late Night Booty Call: One of The Biggest (And Hottest!) Weeks In Late Night TV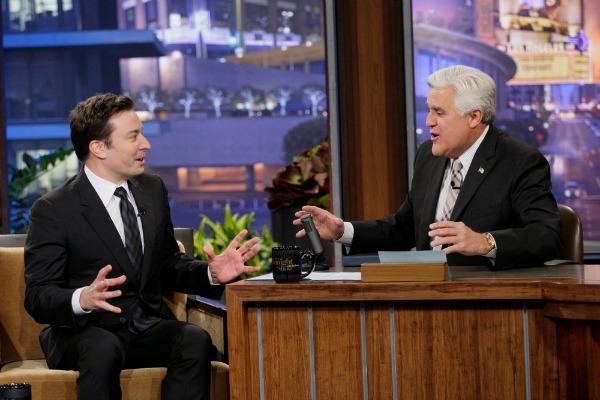 This will no doubt go down as one of the momentous weeks of late night television. And not just because Zac Efron talked about Viagra! We saw Jay Leno hand over The Tonight Show to Jimmy Fallon after a parade of his famous friends came through the show all week. And poor Matt Damon is the butt of everyone's jokes! Let's take a look back at the week in late night.
Let's start with those momentous Monuments Men. Why does hearing about George Clooney's pranks never get old? Matt Damon brings evidence of his latest prank to The Late Show with David Letterman and it sure sounds fun.
Article continues below advertisement
But it's not all fun and games for Matt. He visited his "pal" Jimmy Kimmel with the rest of his cast and just as he was about to get a chance to speak...well, see for yourself.
hulu id=8rqrjlg3xyvqx7gpl6_6ug width=512
OK! News: Here's what's new on Netflix this week
No one can steal George Clooney's thunder! Well except for maybe Bill Murray it seems.
You know that big scene for Matthew McConaughey in Wolf of Wall Street? Yeah, that's just an everyday routine for him. Of course it is!
Article continues below advertisement
Is there a romance coming up on The Walking Dead that would quite possibly cause fangirls all over the world to implode?
Blake Shelton brought a very thoughtful gift during his last appearance on The Tonight Show with Jay Leno.
hulu id=vg8eh2zfdfzlp7ckmflmcw width=512
Photos: Find out our latest Hottie of the Day
There's something so genuinely sweet about seeing this Tonight Show torched passed from Jay to Jimmy here.
hulu id=jt_g-j6fnrwyklv25_iadw width=512
And before we leave Jimmy's last week at Late Night, we catch him in a super-rare mad moment that you can't help but giggle at. Watch him work up a sweat and play Bubble Soccer with Colin Farrell and Chris Pratt.
hulu id=zokjkhgglh5qz7v58pbm_w width=512
What was your favorite late night TV moment of the week? Tell us in the comments below or on Twitter @OKMagazine.