NEWS
Most Memorable Celebrity Feuds of 2009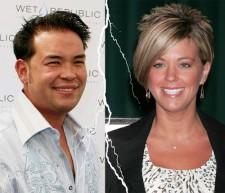 In Tinseltown,  the two F words — Feuds and Frenemies — have become like the air celebrities breathe when it comes to describing their estranged relationships. This year has seen its fair share of feuds and as part of OK!'s Year in Review, we kick off our countdown with the most vicious and volatile face-offs of 2009.
Reality Show Shouters: Jon Gosselin vs. Kate Gosselin
From the outside, Jon and estranged wife Kate, 34 , looked like they had a loving marriage. The parents of eight filed for divorce this summer after 10 years together. The divorce was finalized last month, and the couple left on an amicable note, for now.
Article continues below advertisement
Kate and the kids are upset that the cameras have to stop rolling, due to the axe from Dad on starting her own show Kate Plus 8.
Toughest Take Down: Taylor Swift vs. Kanye West
Kanye rudely interrupted Taylor's acceptance speech for Best Female Video at this year's MTV Video Music Awards in September. The rapper actually ran up on stage to give his opinions on how Beyoncé was more deserving of the award. "I'm really happy for you, and I'm gonna let you finish," he told a stunned Taylor. "But Beyoncé had one of the best videos of all time." Taylor handled the awkward moment like a pro, and later was given props from Beyoncé.
Kanye's actions also sparked a feud between himself and Hollywood.  Celebs like Katy Perry were voicing their feelings on their Twitter pages. She wrote: "I think Taylor is wonderful and Kanye is so talented, but come on man — get the f**k off stage!"
Kelly Clarkson also lashed out at the rapper saying she rather be with "an ex that cheated" over Kanye.
Kanye did eventually apologize for interrupting Taylor's speech, writing (in his all caps way on his blog): "I'M SOOOOO SORRY TO TAYLOR SWIFT AND HER FANS AND HER MOM. I SPOKE TO HER MOTHER RIGHT AFTER AND SHE SAID THE SAME THING MY MOTHER WOULD'VE SAID. SHE IS VERY TALENTED!"
Article continues below advertisement
Cattiest Cat Fight:  Tori Spelling vs. Candy Spelling
This feud not only spans 2009, but ranks as one of the top feuds of the decade. Tori never had a close relationship with her mom; however, the relationship between the two really reached a breaking point when her dad, legendary TV producer, Aaron Spelling, left nearly all of his $500 million estate to Candy. Tori reached out to Candy in 2010, by inviting her mom to daughter Stella's first birthday party, but grandma was a no-show. Both Tori and Candy are published author's releasing books, Mommywood (Tori) and Candy Land (Candy) based on their lives around the same time.
Recently, the estranged mother/daughter duo has made been on the road to reconciliation. "We both decided to take it privately and we are communicating, but privately," in Beverly Hills. "I hope that everyone would respect that because it kind of got out of hand when it wasn't the other way."
Messing with Mimi: Mariah Carey and Nick Cannon vs. Eminem
The blazing feud between Mariah Carey and Eminem stemmed this summer from a disagreement. Eminem claims he used to have a sexual relationship with Mimi, which she denies and caused her to dress up as an Eminem lookalike for her video "Obsessed." In retaliation, the Real Slim Shady released a track called "The Warning," in which he threatens to leak naked pictures of Mariah to hubby Nick Cannon and the rest of the world.
Article continues below advertisement
No one puts Mimi in a corner! Nick had his wife's back, taking to his Twitter page to Tweet his own warning to Em: "Never argue with fools because from a distance people cant tell who is who" as well as "This ain't checkers, this is chess!"
Political Punchers: Sarah Palin vs. Levi Johnston
Former Alaska Governor Sarah Palin and Levi Johnston have a tumultuous relationship to say the least. Levi, father of Sarah's grandson Tripp, did not spend Thanksgiving at the Palin residence, that's for sure. Meanwhile, Sarah did not approve of Bristol Palin's Baby Daddy posing for Playgirl.
Sarah told Oprah Winfrey that Levi's Plagirl "porn is hearbreaking."
Levi wants to move on and make his own decisions. He said that he has no intentions of doing porn, and the Playgirl shoot was tasteful, despite what Sarah and the rest of the Palin brood thinks.
"I want to get some acting gigs going on. And move on after this Palin thing," he explained to OK! last month, adding that a show like True Blood or an action movie would be up his alley.
Article continues below advertisement
Levi said he feels that a reconciliation between him and Sarah probably won't occur in the near future.
"To be honest I don't see it happening any time soon," he said. "I don't care to get along with Sarah."
CHECK OUT OK!'s GALLERY FULL OF FEUDS!
Hogan Family Feud: Hulk Hogan vs. Linda Hogan (Bollea)
The pro wrestler and his ex-wife Linda, finally reached a divorce settlement last summer after months of feuding. Their daughter Brooke Hogan was also involved, publicly taking her dad's side, which turned into a war of words with Linda. Hulk is newly engaged to girlfriend Jennifer McDaniel. The engagement is refreshing for Hulk, coming right after a difficult few years involving the bitter divorce battle from ex-wife and his son Nick's prison sentence for severely injuring a friend in a car accident. The couple have been dating since early 2008 and Jennifer reportedly tattooed Hulk's real first name, Terry, on the inside of her right wrist, during a trip to Las Vegas in September.
Foxxiest Faux-Pas: Miley Cyrus vs. Jamie Foxx
Jamie Foxx should not better than to mess with Hannah Montana! The Oscar-winning actor took it a little too far when discussing teen superstar Miley Cyrus on his Sirius radio show this April. After first asking, "Who is Miley Cyrus?" when her name came up, Jamie went on to remember that "she's the girl with all the gums."
She's got to get a gum transplant," he continued joking. "Let me get an order of mouth, light on teeth, heavy on the gums."
Article continues below advertisement
Billy Ray Cyrus did not let Jamie get away with his outburst, calling the rude remarks"hurtful" and evoking an apology from Jamie. The recording artist apologized to Miley on The Tonight Show.
"Miley, I apologize, so I'll call you," he said. "I got a daughter too, so I completely understand."
Old Becomes New Again Feud: Duff vs. Dunaway
Faye Dunaway ruffled some feathers for voicing her disapproval of young starlet Hilary Duff reprising the role as Bonnie in the new spin on Bonnie and Clyde. "Couldn't they at least cast a real actress?" Faye, the original Bonnie, said after the Hilary casting was announced in February.
Hil fought back, telling E! News's Daily 10,  "I think that my fans that are going to go see the movie don't even know who she is, so you know… I think it was a little unnecessary but I might be mad if I looked like that now too."
Meow!
Irate Idols: Clay Aiken vs. Adam Lambert
After the American Idol finale aired in May, Idol alum Clay Aiken took to his official fan club blog to talk some smack about runner-up Adam Lambert. "I only turn the show on once a season, and only to see what the set looks like each year. This year, I happened to turn it during the minute that Adam Lambert was singing 'Ring of Fire' and, at that moment, thought my ears would bleed. Contrived, awful, and slightly frightening!"
Article continues below advertisement
In his own defense, Adam took a stab at Clay, saying, "I'm glad he's getting headlines now though, because he wasn't before."
Clay came back with a quasi apology.
"If what I said in my previous blog regarding my impression of a single performance from Adam upset or offended any of his fans, I expect that the mature ones will realize that it was simply a poorly worded metaphor describing my personal tastes," Clay stated on his blog. "The only person I would really dream of apologizing to is Adam. And the irony is, if he's smart he couldn't give a crap what I think of his 'Ring of Fire' performance."
Black-Eyed Perez: Will.I.Am vs. Perez Hilton
Perez has had his fare share of celeb debates. The self-titled Queen of all Media knows how to evoke reactions from friends with his bold, brash comments. In June, Perez claimed that Will.I.Am of the Black Eyed Peas sicced his manager on him, and that the manager punched him several times in the head.
Perez said it all started when the band's singer, Fergie, confronted him at the MuchMusic awards in Toronto last night about being mean about their new single on his blog, and that a little later a member of the Peas' entourage shoulder-barged him as he passed by.
Article continues below advertisement
Perez jumped in his car back to his hotel and Tweeted: "I was assaulted by Will.I.Am of the Black Eyed Peas and his security guards. I am bleeding. Please, I need to file a police report. No joke."
Will.I.Am shot back with a video claiming that not only did he not assault Perez, but that Perez is just using a minor incident for publicity.
Feudster/Frenemy Michael Lohan (Michael vs. Linds) (Michael vs. J. Gosselin): It seems like Lindsay Lohan's former dadager is always getting into a fight with someone. The Michael and Lindsay feud has been going on for a long time. Michael constantly has an issue with Lindsay's lifestyle choices and is NEVER afraid to talk about it!
Michael also recently . Michael testified against Jon G. in court. He feels he was betrayed by his good friend.
"When you open your door to somebody and you give them a safe haven and a place to go and then they turn around and bite the hand that feeds or stab you in the back, that doesn't sit well with me," Michael said.