EXCLUSIVE
Clare Crawley Didn't Quit 'Bachelorette,' She Was Pushed Out — Exclusive Details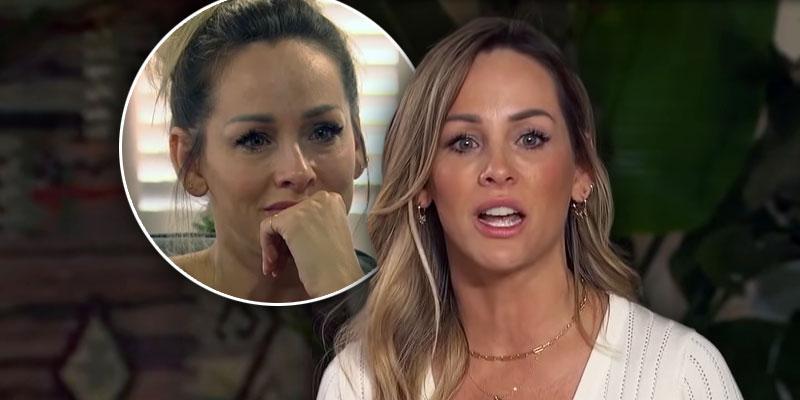 While Clare Crawley is contractually forced to remain silent about why she left The Bachelorette, insiders tell OK! it wasn't her choice to step down as the lead.
"Basically Clare was pushed out and replaced by the younger Tayshia Adams as the Bachelorette just weeks after filming started. Because of the contract, Clare might never be able to tell her side of the story," says an OK! source. "Making matters worse is the fact that the show has 100% control of all the edits."
Article continues below advertisement
The source explains, "Clare is horrified by the way she is being portrayed but knows that if she speaks out, they would sue her for breach of contract. Clare is getting to see the episodes for the first time just like everyone else. She had no idea it was going to be this bad."
DALE MOSS WINS OVER CLARE CRAWLEY ON 'THE BACHELORETTE' — 5 FAST FACTS ABOUT HIM
"Do you know what it is like to watch a bad edit of yourself on a show that millions are watching? They have the power post-production to make it look like Clare treated the other men terribly before she left the show — when in reality it was much more complicated than that," adds a pal.
Just over a week after Crawley started filming, Adams suddenly turned up and started quarantining in Palm Springs close to the set.
"Producers knew after just a few days that they wanted to replace Clare, but since she had done so much press, with her returning to find love and being the oldest Bachelorette ever, they had to find a reason. That reason was Dale Moss, and they are now making it look like it was Clare's decision to leave," adds another source. "It wasn't a coincidence that a back-up Bachelorette just happened to be waiting in the wings. In all the years they have been doing the show, there has never been an understudy waiting, just in case things don't work out.
Article continues below advertisement
"Clare's biggest fear is after she is officially replaced on the show, she will continue to be muzzled. She cannot do anything without the show's approval. No Dancing With the Stars, no appearances of Jimmy Kimmel or Good Morning America. Literally nothing," the insider adds. "Which means her short time as the Bachelorette will be completely erased."
ABC executive Robert Mills also shared some insight into the extremely chaotic and unprecedented season of The Bachelorette. He joined former Bachelor Nick Viall on his "Viall Files" podcast after the Tuesday, October 27, episode of the reality show.
Article continues below advertisement
5 *BURNING* QUESTIONS WE HAVE ABOUT CLARE CRAWLEY'S SEASON OF 'THE BACHELORETTE'
Mills explained production knew they had to let the 39-year-old go after the most recent episode of The Bachelorette. After the group date — where the men brutally roasted "front runner" Moss — Crawley inquired why all the contestants were so focused on taking digs at the former NFL player. "When she didn't give out that rose and she just gave it to herself, that was it," Mills said. "That was really it, when we started making the call to replace her."
After production shut down in March — due to the coronavirus pandemic — the cast and crew quarantined at La Quinta Resort & Club in Palm Springs, Calif., until filming resumed in July. It wasn't long until Crawley was head over heels for the athlete turned model.
Mills first suspected trouble when Crawley insisted on including Moss on a date after she already gave him the first impression rose. "I remember at this point this is where I started to think, it's a shame Clare and Dale aren't on Paradise right now. Because it would've changed everything."
Article continues below advertisement
While Bachelor Nation mostly knows Crawley from season 18 of The Bachelor, she also appeared on season one and two of Bachelor in Paradise and The Bachelor Winter Games. "They would've been able to go off, they would have been there the entire time," Mills added.
TAYSHIA ADAMS *FINALLY* APPEARS ON 'THE BACHELORETTE' AMID REPLACEMENT RUMORS: WATCH
While many contestants and fans speculated Crawley and Moss had a relationship prior to filming, Crawley "swears on her dad's grave that they didn't speak before," Mills told Viall. "I think she was thinking, 'You still have six more weeks at La Quinta … I just can't fake it through this …' She just couldn't do it anymore, I think she was sort of going crazy a little bit."
Mills also teased: "Tayshia will be part of the season starting next week. … This is where, as Chris Harrison says, 'The Bachelorette will blow up.'" Bachelor Nation was first introduced to Adams, 30, on Colton Underwood's season before she joined season six of Bachelor in Paradise.