REALITY TV
The Long-Awaited 'GMA' Interview: 'Deeply Sorry' Chris Harrison Desperate For Bachelor Nation Return Following Shocking Remarks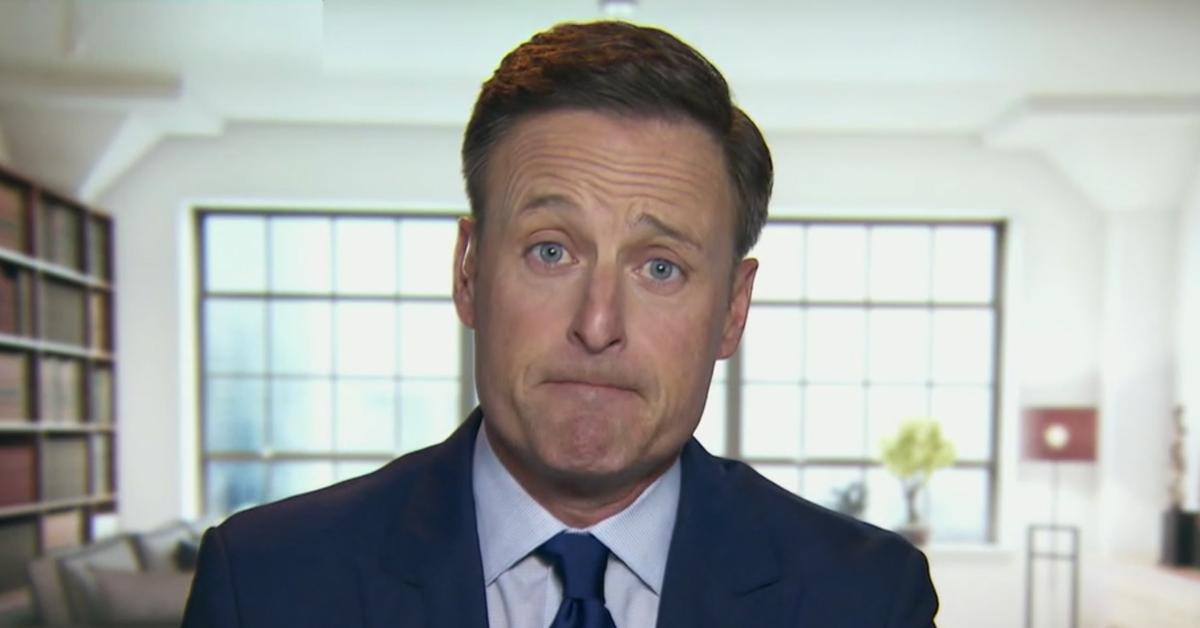 Shamed host Chris Harrison spoke out for the first time regarding the racism scandal that plagued Bachelor Nation last month. Following the controversy, Harrison sat down with Good Morning America co-host Michael Strahan on Thursday, March 4, to address the past comments he made during his February 9 interview with Extra co-host and former Bachelorette Rachel Lindsay — the first Black lead in Bachelor history.
Click here to watch Harrison's interview.
Article continues below advertisement
"I am an imperfect man, I made a mistake and I own that," Harrison began. "I believe that mistake doesn't reflect who I am or what I stand for. I am committed to progress, not just for myself, also for the franchise. And this is a franchise that has been a part of my life for the better part of 20 years and I love it."
During his bombshell interview with Lindsay, Harrison said Bachelor Nation should offer Matt James' frontrunner contestant Rachael Kirkconnell — whose past social media posts reportedly showed her "liking" a photo that contained a Confederate flag and her attending an "Old South" plantation-themed party in 2018 — some "grace" and "compassion."
Article continues below advertisement
"Antebellum parties are not OK. Past, present, future, knowing what that represents is unacceptable," Harrison clarified.
"I am saddened and shocked at how insensitive I was in that interview with Rachel Lindsay. I can't believe I didn't speak against antebellum parties, what they stand for," Harrison told Strahan.
Article continues below advertisement
"I didn't say it then and I want to say it now: those parties are not OK, past, present, future," he reiterated. "And I didn't speak from my heart. And that is to say that I stand against all forms of racism, and I am deeply sorry to Rachel Lindsay and to the Black community."
While Harrison was the one caught up in scandal, Lindsay has been on the receiving end of intense cyberbullying since calling out Harrison for his tone-deaf remarks. As a result of the horrific online abuse, Lindsay deleted her Instagram account.
During his GMA interview, Harrison begged "anyone who is throwing hate towards Rachel Lindsay" to "please stop." He declared, "It's unacceptable."
Article continues below advertisement
As Harrison makes strides to get more "educated," which he said he would do when he first shared a public statement following the controversy, he explained that he "sought out leading scholars, teachers, faith leaders, people like Dr. Michael Eric Dyson, who I am so grateful for, and I've also been working closely with a race educator and strategist. I thank them all."
Harrison noted that Dyson "often talks" to him about "council" rather than "cancel," which is "full accountability, understanding what you didn't understand, owning that, learning from that, seeking counsel often in the community that you hurt, learning from them, listening, gaining experience, knowledge and moving forward."
COLTON, ALI & MORE! BACHELOR OR BACHELORETTES WHO *ALMOST* QUIT THE SHOW
In the meantime, Emmanuel Acho has replaced Harrison as host of the The Bachelor: After The Final Rose special.
An OK! source exclusively disclosed that "before accepting the job, Emmanuel insisted that he must be allowed to ask anything he wants," noting: "Emmanuel doesn't want to burn the show down, but at the same time, he has to ask uncomfortable questions that will make producers and fans squirm."
Kirkconnell and the first Black Bachelor have both spoken out regarding the racism scandal. Click here to see the controversial contestant and James' reactions.