NEWS
Will Sharon Osbourne Return To 'The Talk' Following On-Air Meltdown? Troubled Host Feels Like A 'Sacrificial Lamb'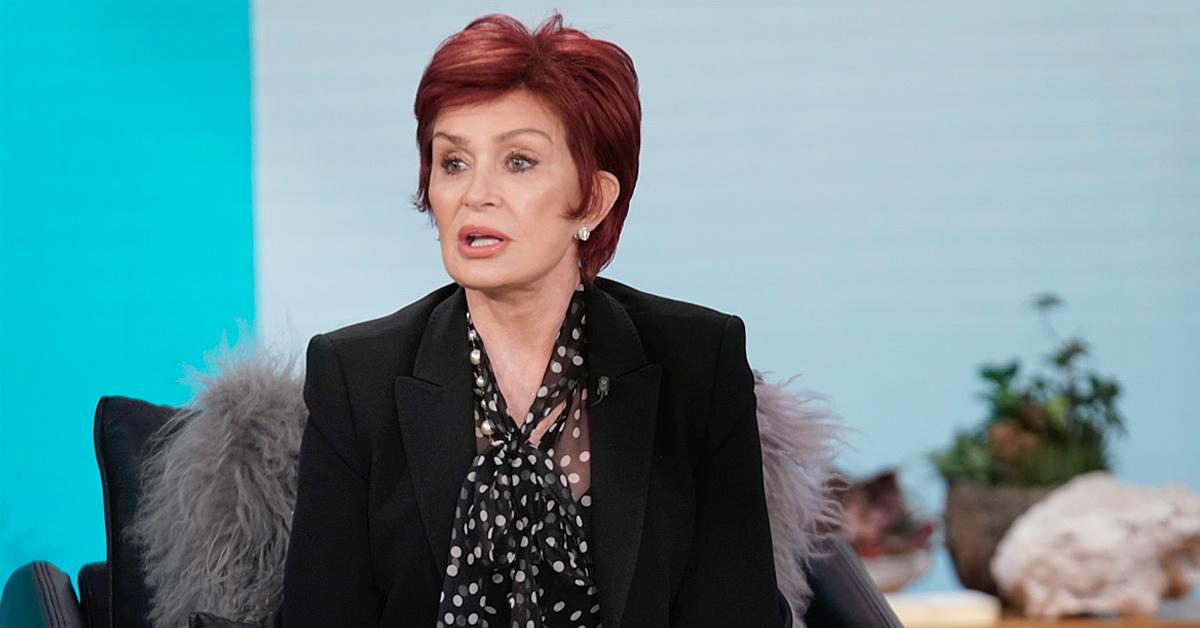 The fate of The Talk and Sharon Osbourne is currently up in the air, as the show extends their hiatus for another week following Osbourne's shocking on-air meltdown — which took place after a heated conversation with co-host Sheryl Underwood.
Following the uncomfortable debate — during which Underwood questioned how Osbourne could defend Piers Morgan after he "uttered" something "racist" in regards to Meghan Markle's recent interview with Oprah Winfrey — CBS announced they were launching an investigation. Osbourne dropped the "F bomb" twice and yelled: "I can't be racist. I'm a [expletive] Jew."
Article continues below advertisement
"There are people who are angry. Some think [Sharon's] the only star of show. There are a lot of different beliefs. Things have to play out," an insider told Page Six on what is next for the show. "Sharon loves The Talk. She really loves it. She may well end up getting sacked, but she's very litigious, so I would not be surprised if she launches legal action."
As OK! previously reported, Osbourne also had a meltdown after the episode, accusing CBS of blindsiding her with the segment about Morgan. "In the post-show meeting, she screamed, 'I'm getting my lawyers!'" a source dished after the Wednesday, March 10, episode of The Talk.
Article continues below advertisement
As the segment unfolded, she thought, "How dare you all do this to me! I'm your sacrificial lamb!" Osbourne — who said she was only defending Morgan's right to freedom of speech and not necessarily agreeing with what he said — added that her cohosts wouldn't speak to her during the commercial breaks.
In regards to Morgan, Osbourne said, "He checks in on me every day, and he feels really me standing up for his right of speech has got me where I am today."
Meanwhile, Osbourne said that Underwood still hasn't spoken to her despite a personal apology made to her colleague. "[Sharon] texted her a very detailed, emotional and heartfelt apology on Friday," an insider told Page Six. "It was very personal and Sheryl did not get back to her."
And while her return may be rocky, Osbourne is still hoping to go back to the show... in some capacity. "I wish we could go on and have an adult conversation calmly and work it out but I don't know whether we can," she told ET, adding: "I don't know whether it's gone past that. I would love to but I don't know whether I even want to go back," or "whether I'm wanted there."
Article continues below advertisement
Osbourne's questionable defense of her famous friend poured over into the Wednesday, March 10, episode of The Talk, where Osbourne said: "Did I like everything he said? Did I agree with what he said? No. Because it's his opinion. It's not my opinion ... I support him for his freedom of speech, and he's my friend."
In response, Underwood, who is Black, questioned: "What would you say to people who may feel that while you're standing by your friend, it appears you gave validation or safe haven to something that he has uttered that is racist, even if you don't agree?"
Article continues below advertisement
"I very much feel like I'm about to be put in the electric chair because I have a friend, who many people think is a racist, so that makes me a racist? What does it gotta do with me?" Osbourne tearfully responded on last week's episode.
After Osbourne received major backlash for defending Morgan — who left Good Morning Britain after coming under fire for his statements — The Talk host issued an apology to those she offended in the Black community via Twitter.
In response, Osbourne's publicist, Howard Bragman, refuted the claims, saying: "The only thing worse than a disgruntled former employee is a disgruntled former talk show host."
She will "survive this because she refuses to let others take her down," he added.
Her pals also don't seem worried, as they called Osbourne a survivor. "She's very comfortable that if she goes down, she knows she went down out of loyalty to a friend and standing up for free speech. That's a comfortable position for her to be in," one insider told Page Six. "And she's very comfortable with the fact that she doesn't have a racist bone in her body. She may not have a politically correct bone in her either, but she's certainly not racist."