REALITY TV
'The Talk' Bombshells! Nasty Claims Mount Against Sharon Osbourne, Embattled Host Still Reportedly At War With Sheryl Underwood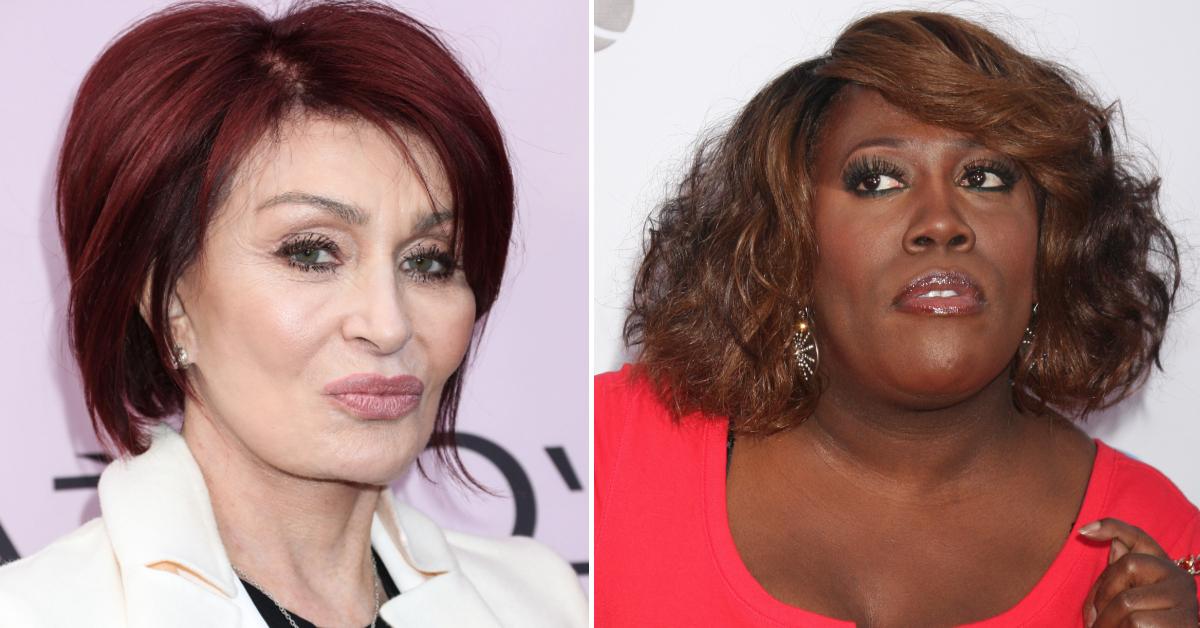 Nearly one week after The Talk co-hosts Sharon Osbourne and Sheryl Underwood butted heads following Osbourne's support of Piers Morgan (who came under fire for his controversial comments about Meghan Markle), the two are allegedly still at odds.
As OK! previously reported, the drama began when Osbourne defended Morgan on Twitter, telling him: "I am with you. I stand by you," after he faced widespread criticism for doubting the claims made by the Duchess of Sussex during her and Prince Harry's bombshell interview with Oprah Winfrey on Sunday, March 7.
Article continues below advertisement
During the tell-all, Meghan revealed she had "very clear and very scary" suicidal thoughts when she was a working royal member.
Osbourne's questionable defense of her famous friend poured over into the Wednesday, March 10, episode of The Talk, which resulted in a heated exchange between the co-hosts.
"Sharon is pissed at Sheryl because she feels like she helped sow a seed that she's racist, and [Sharon]'s unable to rationalize that that's not what happened," an insider on the CBS daytime show told Page Six.
JADA PINKETT SMITH, SERENA WILLIAMS, MORE CELEBS REACT TO MEGHAN MARKLE & PRINCE HARRY'S TELL-ALL INTERVIEW WITH OPRAH WINFREY
After Osbourne received major backlash for defending Morgan — who left Good Morning Britain after coming under fire for his statements — the Talk host issued an apology to those she offended in the Black community via Twitter. And while she didn't mention Underwood, who is Black, in the apology, a source close to the embattled host said she privately reached out to Underwood.
"She texted her a very detailed, emotional and heartfelt apology on Friday," the source dished. "It was very personal and Sheryl did not get back to her."
Article continues below advertisement
Despite the apologies, Osbourne later gave an interview to Variety magazine, where she lashed out once more at CBS and accused them of blindsiding her with the segment about Morgan.
However, sources have since reported that it was Osbourne who came up with the idea to discuss the Piers Morgan and Meghan Markle drama on the talk show.
"Whenever Sharon is in the news, she always goes to the producers and wants to address it on the show. She was aggressive about supporting Piers on social media and got dragged for it," the insider dished. "She came to work after being labeled racist on Twitter and asked to address what was going on online. She [was not] blindsided by CBS."
TALK SHOW TRAINWRECKS! 25 CELEBS WHO TANKED AS HOSTS
Osbourne was initially going to address the drama in a monologue, but producers changed their minds "30 to 35" minutes before going live — deciding they wanted a discussion between the hosts on air, Page Six reported.
Article continues below advertisement
"Everyone knew there was going to be a discussion. Sharon was already hyper-emotional, and she was expecting cover from Sheryl, and then she felt attacked," an insider explained. "She blames Sheryl. In the post-show meeting, she screamed, 'I'm getting my lawyers!'"
The source further explained that Osbourne was expecting a brief conversation about Morgan, not a 20-minute segment on the issue. "It broke precedent, and to make matters worse, [the ladies] had a come-to-Jesus moment a few weeks ago, vowing to have each other's backs," the insider added. "For her to get attacked the way she did, felt very painful."
During the heated exchange between the two, Osbourne said: "Did I like everything he said? Did I agree with what he said? No. Because it's his opinion. It's not my opinion ... I support him for his freedom of speech, and he's my friend."
In response, Underwood questioned: "What would you say to people who may feel that while you're standing by your friend, it appears you gave validation or safe haven to something that he has uttered that is racist, even if you don't agree?"
Article continues below advertisement
"I very much feel like I'm about to be put in the electric chair because I have a friend, who many people think is a racist, so that makes me a racist? What does it gotta do with me?" Osbourne tearfully responded on last week's episode.
Following the uncomfortable debate, CBS announced they were launching an investigation after Osbourne dropped the "F bomb" twice and yelled: "I can't be racist. I'm a [expletive] Jew."
Article continues below advertisement
At the time of the alleged verbal attack, which took place during the show's first season, Osbourne allegedly lashed out at her co-hosts because she felt Chen was trying to take center stage and Gilbert — who was also a producer on the show — was doing nothing about it, the explosive new report claimed.
Osbourne's publicist, Howard Bragman, has since responded to the claims made by sources and Remini, stating: "The only thing worse than a disgruntled former employee is a disgruntled former talk show host."
He insisted that "Sharon has been kind, collegial and friendly with her hosts as evidenced by throwing them parties, inviting them to her home in the UK and other gestures of kindness too many to name." Therefore, "Sharon is disappointed but unfazed and hardly surprised by the lies, the recasting of history and the bitterness coming out at this moment."
He concluded his statement by reiterating that Osbourne's "heart will remain open and good," and said he knows she will "survive this because she refuses to let others take her down."
A new episode of The Talk is expected to air on Wednesday, March 17.