NEWS
'Some A**holes Stay The Same': Chelsea Handler Slams Piers Morgan Following 'Good Morning Britain' Exit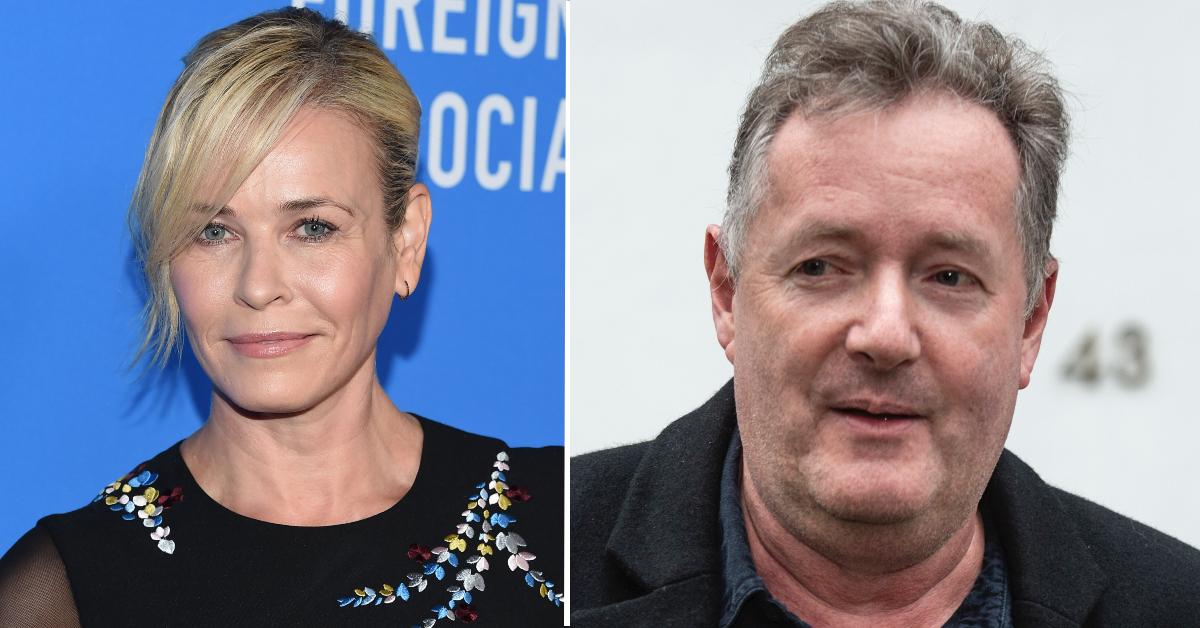 Piers Morgan is taking the heat following his harsh criticism of Meghan Markle's interview with Oprah Winfrey. Following his sudden exit from Good Morning Britain, Chelsea Handler was certainly ready to add fuel to the fire.
One day after Morgan quit the morning show on Tuesday, March 9, Handler threw shade at the host by sharing a video of an interview between the two from 2014. "Some a**holes get better, some just stay the same," the comedian captioned her Instagram post.
Article continues below advertisement
In the clip, Handler, 46, called out Morgan, 55, for checking his phone while he was interviewing her. "I want viewers to know — I mean, they must know because they're probably following you on Twitter — I mean, you can't even pay attention for 60 seconds. You're a terrible interviewer," Handler said, to which Morgan replied: "Well, you just weren't keeping my attention. That's more an issue for you than me."
Article continues below advertisement
Following their heated exchange, Morgan asked Handler if she could relive one moment in her life, what would it be, to which she humorously replied: "It would be spending this hour differently."
Several celebrities took to the comment section to praise the Chelsea Lately alum. Dax Shepard wrote: "You've lived out my Bill O'Reilly fantasy," and his wife, Kristen Bell, added, "There are not enough eggplant emojis in the world to describe how much I love this post."
Article continues below advertisement
Article continues below advertisement
"Who did you go to? What did they say to you? I'm sorry, I don't believe a word she said, Meghan Markle. I wouldn't believe it if she read me a weather report," Morgan stressed on the Monday episode of Good Morning Britain. "The fact that she's fired up this onslaught against our Royal Family I think is contemptible."
Following his comments, TV honchos reportedly wanted the controversial host to apologize on air; however, Morgan stood by his accusations, which resulted in a heated exchange between him and co-host Alex Beresford during the Tuesday episode.
Article continues below advertisement
After Beresford said he "understands" that Morgan has a personal relationship with Meghan, he added: "she cut you off, she's entitled to cut you off, if she wants to," which led Morgan to storm off stage live. "OK I'm done with this," the fuming show host said as he got up to leave.
Moments later, he came back on air to clarify his words. "I said as an all-encompassing thing, I don't believe what Meghan Markle is saying generally in this interview, and I still have serious concerns about the veracity of a lot of what she said," he said, before emphasizing how serious mental health is in general.
Later that day, the network shared a statement, explaining: "Following discussions with ITV, Piers Morgan has decided now is the time to leave Good Morning Britain. ITV has accepted this decision and has nothing further to add."
As OK! reported, the U.K.'s Office of Communications has since launched an investigation into whether Morgan's commentary violated the broadcasting code on harm and offense.