NEWS
What Consequences Will Donald Trump Face If He Gets Impeached, Again, Convicted — And Ousted From Office?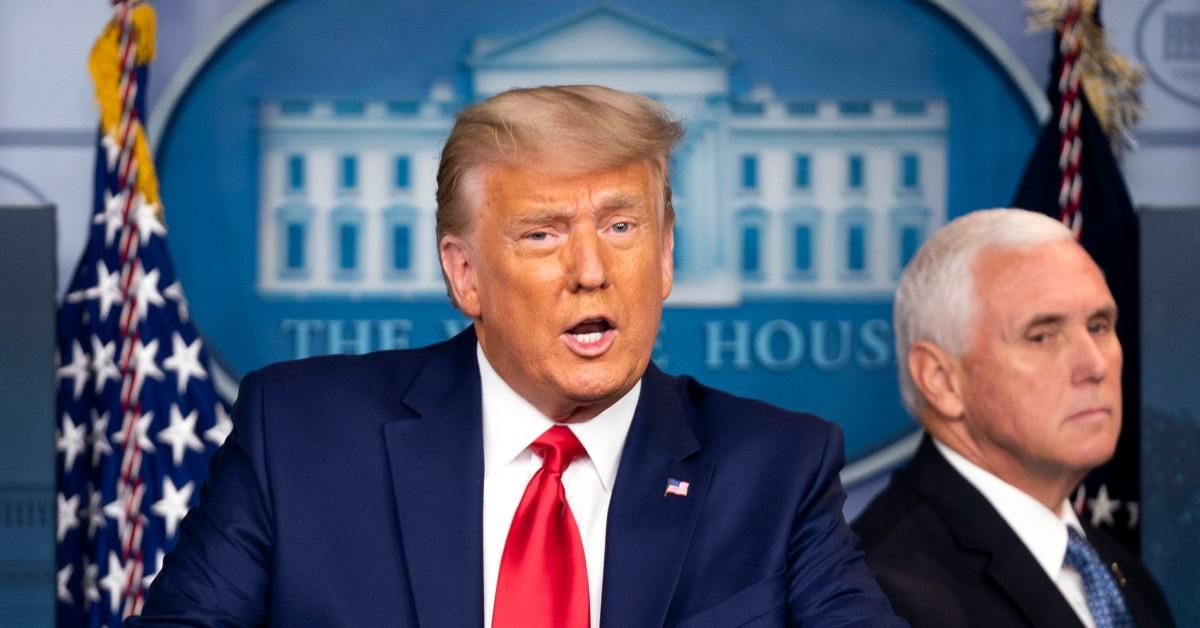 After pro-Donald Trump supporters stormed the Capitol on January 6, the President called the rioters "special people" and didn't punish them for their actions. As a result, House Democrats are moving forward with their plans to impeach the 74-year-old for "incitement of insurrection."
Article continues below advertisement
Since Vice President Mike Pence has not invoked the 25th amendment to the Constitution — which states that the vice president and a majority of the Cabinet can deem the president "unable to discharge the powers and duties of his office" — House Speaker Nancy Pelosi is pursuing the impeachment angle.
"It's important to impeach & convict this president even if he has [a] few days left in office," Democrat representative Ilhan Omar tweeted. "It will set a precedent. We must make it clear that no president can lead an insurrection against the US government. What we do today will matter for the rest of this nation's history."
Article continues below advertisement
Article continues below advertisement
The resolution also talks about the 14th Amendment to the Constitution, which "prohibits any person who has 'engaged in insurrection or rebellion against' the United States from hold[ing] any office … under the United States."
The document also states that Trump "repeatedly issued false statements asserting that the Presidential election results were the product of widespread fraud and should not be accepted by the American people or certified by State or Federal officials."
Article continues below advertisement
So, what will happen to Trump if he does get impeached?
According to the Constitution, Trump will receive two potential punishments if he's convicted by the Senate — he will be removed from office and will not be able to run for president again.
Even if the House moves to convict Trump right away — without going into an investigation or having any defense — time is of the essence because the Republican-led Senate will not do anything before President-elect Joe Biden is sworn in on January 20.
"You can't impeach non-sitting public officials," former NYU Law professor Peter Rajsingh said. "Once he's left office, it's a moot situation."
"Any such post-departure Senate trial would be a show trial for political purposes, not a legitimate constitutional trial," Cornell Law professor William Jacobson added.
WAS JAMIROQUAI'S JAY KAY AT THE U.S. CAPITOL RIOT IN WASHINGTON? SEE THE PHOTOS
Article continues below advertisement
After presidents leave the White House, they are eligible for different benefits, including travel expenses, health benefits and Secret Service protection, to name a few. Now, some are making the argument that Trump should not be able to take advantage of these perks.
Still, Jacobson noted, "The language does not suggest that after leaving office, impeachment could be used to strip an ex-president of his pension and continuing benefits."
Meanwhile, some people are worried that Trump will do everything in his power to pardon the rioters who wreaked havoc on the Capitol last week, even if the Senate never convicts him. House Democrats are confident that their vote will be enough to block Trump from doing this.
"This language does not end such power upon impeachment alone," Jacobson said. "So long as Donald Trump is president, under the Constitution he has the power to issue pardons."
Since Trump is still in office, his Republican party holds the majority, but once Biden takes over, the Senate will be controlled by the Democrats. It's unclear, though, how many Republicans will turn on Trump since two-thirds majority — 67 of 100 senators — is needed in order to convict the president. Last time, Trump was acquitted by the Republican-led Senate.
MEGYN KELLY SLAMMED FOR RACIST COMMENTS — AGAIN
Trump still could face criminal charges after leaving office. "While it is difficult — maybe impossible — to prosecute a sitting president, all bets are off once he is gone," Brian Kalt, a constitutional law professor at Michigan State University, said.