REALITY TV
Fans Slam Clare Crawley's Strip Dodgeball Date On 'The Bachelorette' — Find Out Why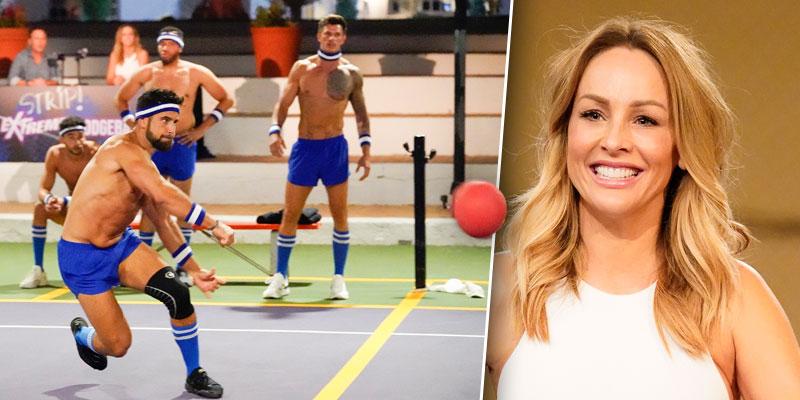 Fans were not happy with Clare Crawley's strip dodgeball date on The Bachelorette, which aired on Tuesday, October 20. 
At first, the 39-year-old had the two teams play a dodgeball match against each other, and whichever won would get to spend some much-needed time with the reality starlet. Crawley made the competition more interesting when she said that every time a team loses, they had to lose part of their outfit, ultimately ending up with just boxers on. 
Article continues below advertisement
A third user added, "Can you imagine if The Bachelor made a bunch of women play strip dodgeball? He'd get canceled immediately. #bachelorette #clare."
A fourth person fumed, writing, "Friendly reminder if this strip dodgeball date happened on The Bachelor vs. The Bachelorette, we would be furious because of the further objectification of women. So, unless these dudes give explicit consent to drop trousers, no, we're not gonna celebrate this in any way."
Article continues below advertisement
Meanwhile, Yosef — who was not involved in the group date — was the only one who said something about the controversial request, calling it "classless." On the next episode, he appears to talk to Crawley about what she made the men do.
That wasn't the only uncomfortable moment on the show, though. During the first group date, Crawley was shocked when no one asked her to chat with her.
"Does anybody want to step up to the plate?" she said after an awkward silence. "Don't everyone jump at once."
Article continues below advertisement
Even though Bennett pulled her aside, she couldn't help but confront the men over what was on her mind. "I'm a little bit taken aback. I'm sitting here, I made a toast, and then there was the longest awkward silence," she said. "Does anybody want to spend time with me?
"If you guys all want to hang out with each other, you can do that and I can go home and go to bed. At the end of the day, I'm a woman and I want my man to show me he cares. The truth of the matter is, it just hurt me," she said.
Article continues below advertisement
Crawley wanted to know what Brandon specifically liked about her, but he couldn't come up with a good enough answer. "I don't really know anything about you," he said. "I don't obviously know you on a personal level. You're just so beautiful, and I wanted to get to know you."
"I don't think people have to know me on a personal level, but there's a lot of guys here who say they like my drive, they like what I have to offer," Clare replied. "I have a really great group of guys here and I think I'm going to have to focus more on them. I don't think I want to pursue this anymore." As a result, he was sent packing.
The Bachelorette airs on ABC Tuesdays at 8 p.m. ET.